VSU could meet VUU in men's final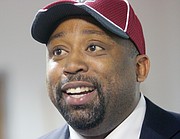 It's possible something could occur this week that's never happened in CIAA Basketball Tournament history dating to 1946.
Next-door rivals Virginia State and Virginia Union universities, which are on opposite sides of the bracket, could meet in the March 2 tournament final at the Spectrum Center in Charlotte, N.C.
This is no far-fetched theory. VSU and VUU both journeyed to the Queen City feeling a stiff breeze at their backs. VSU Coach Lonnie Blow's Trojans, the top seed in the CIAA Northern Division, are 24-4 overall, 16-1 in the CIAA.
VSU has won 20 of the last 21 games, with its only loss during that run a 75-67 rout at VUU on Feb. 9 at Barco-Stevens Hall. It marked the Trojans' lone loss since Nov. 28.
This domination is no fluke. VSU is 95-21 under Coach Blow during the past four seasons.
VSU was set to open Wednesday against either Winston-Salem State University or Elizabeth City State University. A victory would send the Trojans to the semifinals at 7 p.m. Friday, March 1.
As the No. 2 seed in the Northern Division, VUU opens at 7 p.m. Thursday, Feb. 28, against either Claflin, Chowan or Johnson C. Smith universities depending on which team wins earlier round games.
VUU Coach Jay Butler's defending CIAA champion Panthers are 18-10 overall, 13-4 in the CIAA, and have won seven of the past eight games, including the bold-letter win over VSU.
VSU is led by 6-foot-6 Cleveland native Jahmere Howze averaging 14 points and six rebounds per game. Point guard C.J. Wiggins is among the CIAA's assists leaders and Cyonte Melvin may be the conference's top perimeter defender. Brandon Holley and Jalen Jackson are 3-point specialists.
VUU features ample star power, too. Guard Terrell Leach, who joined the Panthers 17 games ago, averages 21.1 points, followed by Will Jenkins (15.1 points) and Demarius Pitts (13.1 points).
Coaches from VUU and VSU deserve much credit for navigating their teams through choppy water. Coach Butler lost seven seniors from last year's Panthers team, and earlier this month, guard Jemal Smith was sidelined with a broken hand.
Coach Blow also has rebuilt his lineup from a year ago. The Trojans lost three senior starters from 2018. Then Walter Williams, among the top returnees, was lost for the season in November with a foot injury.
While VUU and VSU have never met in the CIAA finals, they did collide in the 2018 semifinals with the Panthers prevailing in an upset.
VSU is ranked third in the NCAA Division II Atlantic Region and will likely receive a NCAA tournament bid regardless of what happens in Charlotte. Unranked VUU will likely have to win the tournament to keep its season afloat.
A top reason why both VSU and VUU never reached the final dance together was the overwhelming presence of Norfolk State University. Before bolting to the MEAC, NSU made the CIAA finals 21 times between 1965 and 1996.
The championship game at 4:30 p.m. Saturday, March 2, is a break from the CIAA's Saturday night tradition. Typically, Friday's semifinal games don't end until about midnight. So the teams playing in the championship will take the court after only a short rest.
Aspire TV will televise the quarterfinals, semifinals and final games.
•
Shaw University's Bears are the top seed in the CIAA's South Division, with the team's marquee attraction being Amir Hinton.
If form holds, VUU would play Shaw in the semifinal nightcap at 9 p.m. Friday, March 1.
Hinton is bidding to become the fifth CIAA athlete to lead the NCAA Division II in scoring. The 6-foot-5 native Philadelphian who transferred to Shaw from Lock Haven University in Pennsylvania, was averaging a nation's best 30.4 points as of Feb. 21. Second at 29.3 points is Concord University's Tom Bolte.
Hinton has dominated CIAA scoring. Second in the CIAA is Livingstone College's Roger Ray at 21.6 points. Hinton also averages about five rebounds and five assists, while hitting nearly 90 percent from the foul line.
Earlier this season, Hinton pumped in a Bears' record 52 points in the team's loss at the University of Tampa.
CIAA players leading the NCAA in scoring were:
• 1967: Earl Monroe, Winston-Salem State University, 41.5 points
• 1981: Greg Jackson, St. Paul's College, 27.6 points
• 1990: A.J. English, Virginia Union University, 33.4 points
• 1991: Gary Mattison, St. Augustine's University, 29.5 points