VSU Trojans, VUU Lady Panthers win CIAA; next stop NCAA regionals
Trojans triumph
The powerful engine that is Virginia State University basketball barely tapped its brakes rumbling through Charlotte, N.C., and the CIAA Tournament championship last weekend.
Now, with whistles steaming and the furnace burning overtime, the Trojans' next destination is the NCAA Division II playoffs.
"We'll enjoy this a bit, but there's more stuff to do," VSU Coach Lonnie Blow said after the team's 77-66 win over Shaw University last Saturday to claim the CIAA championship at the Spectrum Center in Charlotte.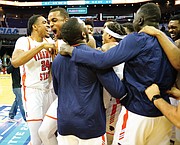 The victory marked VSU's fourth CIAA title in an event dating to1946. The Trojans previously won in 1947, 1988 and 2016.
"This tournament is historic," Coach Blow said. "I tell our kids that to win this makes you a champion for life."
Few teams anywhere carry more momentum. 
The Trojans head to the NCAA playoffs with a 27-4 overall record, including 18-1 against CIAA opponents. VSU has won seven straight games and 23 of the last 24 matchups.
More to come: VSU will be making its third trip to the NCAA Division II Regionals in the last four years. In each previous trip, the Trojans lost in the second round.
As of Feb. 24, VSU was ranked third in the NCAA Atlantic Region, behind Indiana University of Pennsylvania and West Liberty University of West Virginia.
If form holds, VSU will travel to Indiana University (Penn.) for the Atlantic Regional starting Friday, March 15. The Trojans know the way; VSU lost to Indiana 70-67 on Nov. 10.
The Howze is on fire: Earning CIAA MVP honors was VSU's Jahmere Howze. The rugged 6-foot-6, 230-pound senior center had 28 points and 12 rebounds against Shaw University. The Cleveland native dominated the Bears' 6-foot-9 Alex Owens inside. After scoring 22 points in Shaw's CIAA semifinal win over Virginia Union University, Owens was held scoreless against VSU.  
A transfer from California University of Pennsylvania, Howze is one of three front-line Trojans seniors who came to Ettrick with just one season of eligibility. Others were point guard C.J. Wiggins, a transfer from North Carolina Central University, and Jalen Jackson, from the University of Tennessee-Martin.
Coach Blow took a chance on his "one-year wonders" and so far it couldn't have worked out better.
Howze was joined on the CIAA All-Tournament team by VSU teammates Jackson and Cyonte Melvin. Jackson had 16 points and eight rebounds against Shaw, while hitting four of eight behind the arc. Melvin is arguably the conference's premier perimeter defender.
Wiggins, hailing from Benedictine Prep, had 11 points and six assists in the tournament finale, while Andrew Corum added 11 points and eight rebounds in reserve.
For Shaw University, Amir Hinton, the nation's leading scorer in the NCAA Division II, had 34 points and DaVaughn Kelsie, from Richmond's Thomas Jefferson High School, had 17 points, with five 3-pointers.
Sideline supervisor: VSU came to the Charlotte tournament as the No. 1 seed and also a leader in bling. During the week, Coach Blow wore his two previous CIAA championship rings — earned at St. Augustine's University in 2010 and in 2016 at VSU.
Now he'll be fitted for a third.
It's about time for Coach Blow to be mentioned with some of the CIAA's all-time coaching greats, including the likes of Clarence "Big House" Gaines, Dave Robbins, Charles Christian, Ernie Fears, Mike Bernard, Steve Joyner and Bobby Vaughan.
Since the 2015-16 season, VSU is 98-21 overall under Coach Blow and 58-10 in the CIAA. He was 63-27 previously at St. Augustine's.
Sitting it out: The Trojans might have been even stronger if not for the unfortunate injury to senior Walter Williams, who had been named preseason All-CIAA.
The former Henrico High School standout suffered a season-ending foot injury in November. Fortunately, he will receive a medical redshirt and return to action in the 2019-20 season.
Looking ahead: The CIAA Tournament returns to Charlotte in 2020 before moving to Baltimore in 2021. The event has been held in Charlotte since 2006.
Minus one: This was Chowan University's final CIAA Tournament appearance. The university in Murfreesboro, N.C., will be leaving the CIAA as a full-time member to join Conference Carolinas in 2019-20. The Hawks will remain a CIAA associate member for football and bowling.
Chowan, while not an HBCU, has been a CIAA affiliate since 2007.  
McNeill takes Lady Panthers to top spot
Virginia Union University may have discovered something even more valuable than home court advantage.
Call it the hometown girl advantage.
Shareka McNeill turned in a historically brilliant performance in leading the VUU Lady Panthers to the CIAA Tournament title with a 74-41 win over Fayetteville State University last Saturday at the Spectrum Center in Charlotte, N.C.
The win marked the Lady Panthers' third CIAA title in four years under Coach AnnMarie Gilbert.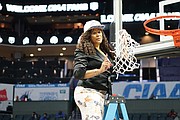 Next up for the team is the NCAA Division II Atlantic Region playoffs that start March 15.
A feeling of familiarity may have played a role in southeastern North Carolina.
The Spectrum Center is just 4.7 miles from Harding High School in Charlotte, where Shareka and her twin sister, Shameka, starred before enrolling at VUU.
To underscore the close proximity, the Harding High ROTC Color Guard even performed prior to the CIAA championship game.
"It made a big difference playing before my family and friends and this great crowd. It was amazing," McNeill said.
"Amazing" was the word of the week in describing the 5-foot-5 sophomore as she wore out defenders and statisticians alike.
In three games, McNeill tallied a tournament record 134 points, including 59 points against Livingstone College, 38 against Lincoln University of Pennsylvania and 37 in the final against Fayetteville State. She had 30 points at halftime during the final before easing off the gas.
Combined, she was 42 for 76 from the field, 24 of 39 behind the arc and 26 of 29 at the foul line.
As the CIAA Player of the Year, McNeill was a no-doubt-about-it CIAA Tournament MVP.
"Seeing this may be new to the rest of the world," Coach Gilbert said. "But we see it every day. My job is to squeeze every bit of that talent out of her before she leaves."
For the season, McNeill scored a CIAA best 23 points per game.
At VUU's postgame press conference on Saturday, McNeill was asked if she had ever scored so much even in high school.
"No, I think the most I ever got in high school was 25," she said.
With a response that cracked up the room, Coach Gilbert quickly chimed in, "Must be the coaching."
Sister Shameka McNeill had four steals in the final game and 6-foot-1 junior Jasmine Carter, from Richmond's John Marshall High School, contributed 18 points and 14 rebounds.
VUU will carry a 27-2 record and six straight victories into the NCAAs.
According to a Feb. 24 poll, the Lady Panthers are ranked No. 1 in the Atlantic Region and 12th nationally in Division II. That places the Lady Panthers in the pole position to host the Regionals for the third time in four years.
If so, VUU will not only have a hometown girl advantage in Carter but the home court advantage as well.