VSU Trojans, VUU Lady Panthers win CIAA; next stop NCAA regionals
Trojans triumph
The powerful engine that is Virginia State University basketball barely tapped its brakes rumbling through Charlotte, N.C., and the CIAA Tournament championship last weekend.
Now, with whistles steaming and the furnace burning overtime, the Trojans' next destination is the NCAA Division II playoffs.
"We'll enjoy this a bit, but there's more stuff to do," VSU Coach Lonnie Blow said after the team's 77-66 win over Shaw University last Saturday to claim the CIAA championship at the Spectrum Center in Charlotte.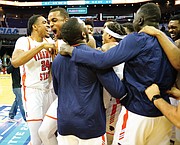 The victory marked VSU's fourth CIAA title in an event dating to1946. The Trojans previously won in 1947, 1988 and 2016.
"This tournament is historic," Coach Blow said. "I tell our kids that to win this makes you a champion for life."
Few teams anywhere carry more momentum. 
The Trojans head to the NCAA playoffs with a 27-4 overall record, including 18-1 against CIAA opponents. VSU has won seven straight games and 23 of the last 24 matchups.
More to come: VSU will be making its third trip to the NCAA Division II Regionals in the last four years. In each previous trip, the Trojans lost in the second round.
As of Feb. 24, VSU was ranked third in the NCAA Atlantic Region, behind Indiana University of Pennsylvania and West Liberty University of West Virginia.
If form holds, VSU will travel to Indiana University (Penn.) for the Atlantic Regional starting Friday, March 15. The Trojans know the way; VSU lost to Indiana 70-67 on Nov. 10.
The Howze is on fire: Earning CIAA MVP honors was VSU's Jahmere Howze. The rugged 6-foot-6, 230-pound senior center had 28 points and 12 rebounds against Shaw University. The Cleveland native dominated the Bears' 6-foot-9 Alex Owens inside. After scoring 22 points in Shaw's CIAA semifinal win over Virginia Union University, Owens was held scoreless against VSU.  
A transfer from California University of Pennsylvania, Howze is one of three front-line Trojans seniors who came to Ettrick with just one season of eligibility. Others were point guard C.J. Wiggins, a transfer from North Carolina Central University, and Jalen Jackson, from the University of Tennessee-Martin.
Coach Blow took a chance on his "one-year wonders" and so far it couldn't have worked out better.
Howze was joined on the CIAA All-Tournament team by VSU teammates Jackson and Cyonte Melvin. Jackson had 16 points and eight rebounds against Shaw, while hitting four of eight behind the arc. Melvin is arguably the conference's premier perimeter defender.
Wiggins, hailing from Benedictine Prep, had 11 points and six assists in the tournament finale, while Andrew Corum added 11 points and eight rebounds in reserve.
For Shaw University, Amir Hinton, the nation's leading scorer in the NCAA Division II, had 34 points and DaVaughn Kelsie, from Richmond's Thomas Jefferson High School, had 17 points, with five 3-pointers.
Sideline supervisor: VSU came to the Charlotte tournament as the No. 1 seed and also a leader in bling. During the week, Coach Blow wore his two previous CIAA championship rings — earned at St. Augustine's University in 2010 and in 2016 at VSU.