VSU men's team wins Freedom Classic, while VUU Lady Panthers clinch victory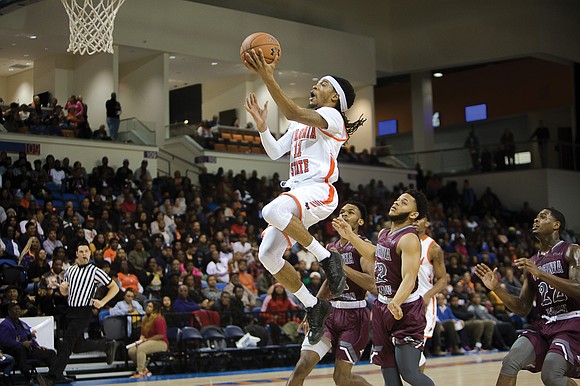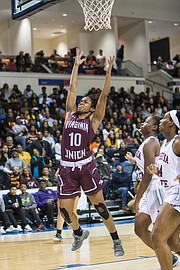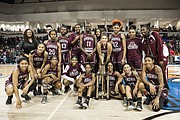 VSU Trojans
The Virginia State University basketball team started this season with a multitude of questions.
Since then, it has come up with all the right answers.
Celebrating the 24th Freedom Classic, Coach Lonnie Blow's Trojans overpowered Virginia Union University 88-73 at VSU's Multi-Purpose Center last Saturday.
Jalen Jackson had 22 points and Cedric "C.J." Wiggins added 18, with four assists and four steals. Cyonte Melvin had 14 points and three steals and Jahmere Howze contributed 11 points and eight rebounds.
The game marked the 11th straight win for VSU after starting the season 0-2. The Trojans are now 15-3 overall and 7-0 in the CIAA and looking very much like the conference favorite.
It wasn't like Coach Blow had an unbeatable hand coming out of preseason drills. He had to replace three starters, and then preseason All-CIAA Walter Williams suffered a season-ending foot injury in the fourth game.
The current roster hails from here, there and everywhere, but has congregated nicely around a common game plan. The team of mostly transfers has meshed quickly.
Among the regulars, Jackson, Howze, Wiggins and Armond Griebe are first-year transfers. Brandon Holley is a second-year Trojan. Melvin is in his third season after moving over to VSU from Radford University.
The Trojans dominate in the standings and also the statistics. VSU averages 79 points, allowing just 67 points per game. The team, while balanced in terms of individual numbers, is hitting 47 percent from the field, compared to 41 percent for the opposition.
Now oozing with momentum, VSU should be favored in virtually every game the rest of the season.
With Saturday's loss, the VUU Panthers fell to 9-8 overall and 5-2 in the CIAA.
But the team got to showcase the newest Panther, dynamic Terrell Leach. The 6-foot, 24-year-old transfer from Winston-Salem State University had 24 points, with four 3-pointers, three steals, three rebounds and an assist.
In looking for a VUU comparison to Leach in terms of size and athleticism, some have suggested Keith Valentine, MVP of VUU's 1980 NCAA Division II championship team.
VUU Coach Jay Butler has a talented cast that figures only to get better. The Panthers are hoping to peak at the CIAA Tournament like they did last year. In fact, the Panthers might be the best team in the CIAA not wearing VSU orange and blue.
•
The official crowd total at the Freedom Classic was listed at 3,023 paid attendance, but there were many more people in the 5,200-seat arena. The facility was nearly full by the start of Saturday's men's game.
•
 If there is anything to fault the Trojans on regarding their Freedom Classic performance, it's that they kept many "old-timers" up after their bedtimes.
Because of a scoreboard malfunction, the women's game was delayed by nearly an hour. The men's game, slated for 8 p.m., didn't start until 9:15 p.m. and didn't end until the lights were going out all over Ettrick and Southern Chesterfield County.
Lady Panthers
For first time, the 24th Annual Freedom Classic featured women's teams, and Virginia Union University put on a show that won't soon be forgotten.