Lady Panthers win CIAA; headed back to NCAA playoffs
Fred Jeter | 3/10/2018, 9:06 a.m.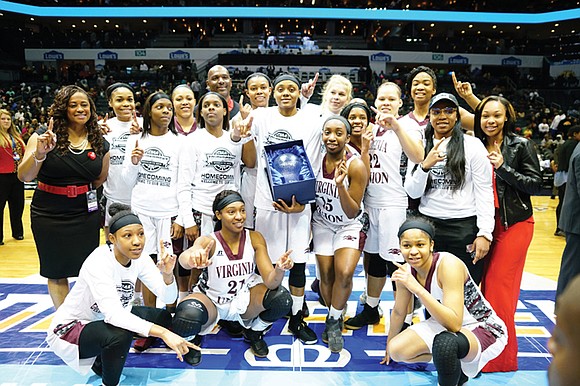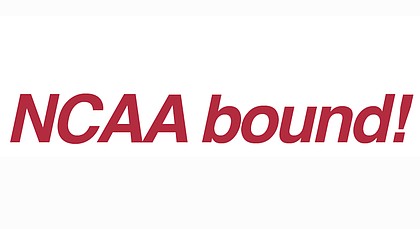 The Virginia Union University Lady Panthers have enjoyed a steady drumbeat of success during the last three years, and the drummer shows no signs of weariness.
Both the beat and the on-court beatings of their opponents go on.
At last week's CIAA Tournament in Charlotte, N.C., the league's other 11 members were playing for second place against VUU Coach AnnMarie Gilbert's clearly superior Lady Panthers.
The Lady Panthers ran roughshod over the competition as expected, winning their second CIAA title in three years while upping the three-year record under Coach Gilbert to 84-10.
Even the CIAA Tournament finale at the Spectrum Center was void of drama. VUU led 32-16 at halftime before coasting to a 73-57 triumph over Bowie State University.
In three outings, VUU outscored the opposition by a cumulative 235-165. For the season, VUU has averaged 78.1 points per game while holding its opponent to an average of 58.9 points.
Alexis Johnson, who prefers coming off the bench, scored 60 points, grabbed 38 rebounds and rejected 14 shots in three games, adding the tournament MVP honors to her regular season Player of the Year accolade.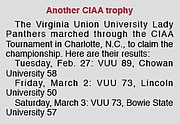 The "Blonde Bomber," Rachael Pecota, had 28 points plus 10 rebounds in the CIAA final, while the freshmen McNeill twins, Shameka and Shareka, were outstanding throughout and all over the court.
Also playing substantial roles in the team's CIAA victories were Jasmine Carter, Johnson's backup at center; Rejoice Spivey, who had eight assists in the finale; and defensive stopper Kishona Sutton.
The Lady Panthers now return to play again this year in the NCAA Division II Atlantic Regional. And the team won't have far to travel. The regional begins on the VUU campus at Barco-Stevens Hall, where VUU is 38-1 under Coach Gilbert over three campaigns.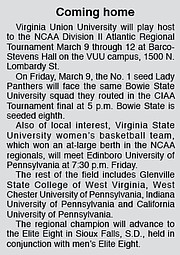 The Lady Panthers have won the last two NCAA regional crowns in convincing fashion and will be hard to topple this go-round on its home court on Lombardy Street. VUU is 13-0 at home this season.
In 2016, the Lady Panthers got to the Elite Eight, then all the way to the NCAA final a year ago in Ohio.
The Virginia State University women's basketball team, which is 23-5 this season and led by All-CIAA guard Alexis Smith, also advances to the NCAA regionals as an at-large entry.
The Trojans defeated Winston-Salem State University 83-65 before losing to Bowie State University 53-49 at the Charlotte tournament.
Smith averages 19 points, five assists and four rebounds per game.
The Trojans were competitive against VUU in the regular season, losing 65-56 and 62-52.