Lady Panthers face heartbreaker in 1st round
3/16/2018, 8 a.m.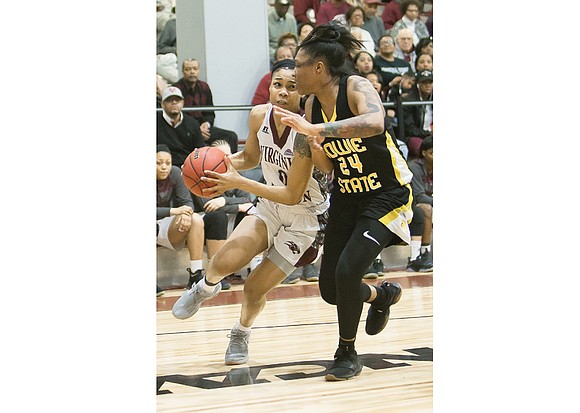 On a scale of one to 10, it hurt like an 11.
When the final curtain fell on the Virginia Union University Lady Panthers' basketball season, it dropped with a bone-chilling thud, and long before anyone expected.
In the most improbable of upsets, VUU's season ended with a 63-56 loss last Friday to Bowie State University in the NCAA Atlantic Region quarterfinals at Barco-Stevens Hall on the VUU campus.
"I want to apologize to Virginia Union and the community. I thought we would carry the torch further," Coach AnnMarie Gilbert said afterward.
With a sweet sigh, she added, "We had a great season."
That is indisputable. But no one, except perhaps for some spirited ladies from Maryland, felt the Panthers' coach would be speaking in the past tense so early.
If there were betting lines on women's NCAA Division II hoops, VUU would have been a prohibitive favorite.
Finishing 28-3, Coach Gilbert's Lady Panthers were ranked No. 4 nationally and No. 1 in the NCAA Atlantic Region. The team had lost only once in three years at Barco-Stevens Hall.     
The team also won the NCAA Atlantic region title for the past two years.
And this season, the Lady Panthers had routed the eighth-seed Bowie State Bulldogs three times with a combined 49 points. The most recent trouncing was in the CIAA final on March 3 in Charlotte, N.C., where the Lady Panthers beat the Bulldogs 73-57.
Here's how Bowie State Coach Shadae Swan summed it up:
"You know when you lose to someone on the playground, you say, 'Run it back,' meaning let's go again. Tonight, we ran it back."
There were mitigating circumstances, for sure.
Dynamic VUU freshman Shameka McNeill suffered a knee injury during the CIAA Tournament and was unavailable to play in the NCAA regional game.
And VUU's All-CIAA seniors, Alexis Johnson and Rachael Pecota, couldn't escape the Bulldogs' sharp defensive claws.
On season, Johnson and Pecota averaged a combined 32.3 points and 17.7 rebounds. In what would be their final game, they settled for 12 points and 12 rebounds.
Try as they may, others couldn't fill the void.
Gracious in defeat, Coach Gilbert credited Bowie State with "disrupting our rhythm, our flow," with a more aggressive "man" defense they hadn't seen previously.
Dueling, high-volume pep bands also contributed to the chaos. It was the epitome of "March Madness."  
And then there was the heckler.
For much of the second half, a passionate VUU fan seated in the front row at midcourt picked on Bowie State guard Kyah Proctor.
"You're tired! You're tired!" the heckler shouted. "You can't play the whole game."
Proctor politely smiled and kept going, finishing with 22 points, including three 3-pointers that were like daggers to the home team.
And she played the full 40 minutes.
The heckler "was my motivation," Proctor said. "I drew my energy from him."         
The loss marked the final game for five VUU seniors, who will be hard to replace and won't soon be forgotten.
Still, a strong cast will return to VUU next season, including the McNeill twins, Shameka and Shareka, promising center Jasmine Carter from John Marshall High School and others.
Coach Gilbert has proven to be a master recruiter, landing one star after another in three superb seasons on Lombardy Street.
Time heals, as the saying goes, but some sores are worse than others.
By next November, facing a brand new season, the anguish from the night someone "let the dogs out" will be forgotten — maybe.