Second round no charm in NCAA Division II: Lady Panthers take a fall to Indiana Univ.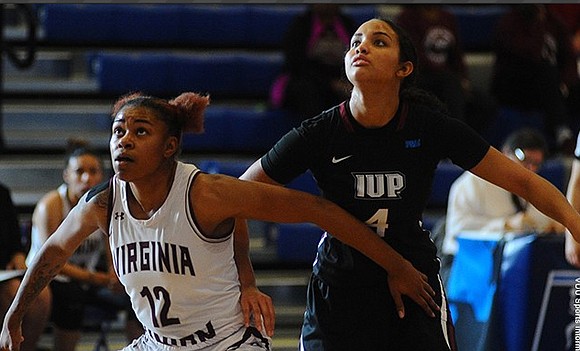 Full of hope, the Virginia Union University Lady Panthers traveled six hours by bus to mountainous Glenville, W.Va., for the NCAA Division II Atlantic Regional playoffs.
Its bubble burst, the women's basketball team must have felt like it took six days traveling back.
The Lady Panthers' glistening season ended with a 66-58 loss Saturday to Indiana University of Pennsylvania in the NCAA regional semifinals.
Rejoice Spivey had 20 points and Jasmine Carter added 11 points and 12 rebounds in the defeat. CIAA Player of the Year Shareka McNeill was held to 14 points. The heavily guarded McNeill was 4 for 19 shooting from the field, including 1 of 8 behind the arc.
In the first round last Friday, the Lady Panthers defeated Edinboro University of Pennsylvania 83-71 to advance to the semifinals.
The Lady Panthers' 2018-19 superlatives included:
• A 28-3 record; this marks the fourth straight season the Lady Panthers have won exactly 28 games.
• The team's four-year mark under Coach AnnMarie Gilbert improves to 112-14 overall and 57-8 in the CIAA.
• Winning a third CIAA Tournament championship in four years.
• A fourth straight NCAA bid.
The VUU Lady Panthers' future appears just as bright as the recent past. Many key players will be returning, most notably McNeill, who led the CIAA with an average of 24.7 points per game and 765 points. The Panthers' season record for points was 905 by Kiana Johnson in 2016.
Others VUU players returning with championship résumés are McNeill's twin sister, Shameka, post players Carter, Christina Deng and Destiny Gardner and quick guard Bianca Lockamy.
Also expected back is 6-foot Ifunanya Okoye, who was lost due to injury late in the regular season. Okoye was averaging 11 points and seven rebounds as a freshman.
Coach Gilbert will need to replace power center Nicole Floyd, ball-handling ace Spivey and 3-point shooter Bria McKinney.
Spivey departs as VUU's all-time assists leader.
Another strong performer in VUU's success was assistant Coach Liberty Del Rosario, who was named Division II National Assistant Coach of the Year by the Women's Basketball Coaches of America.