Alexis Johnson leading a repeat for Lady Panthers
2/17/2018, 9:01 a.m.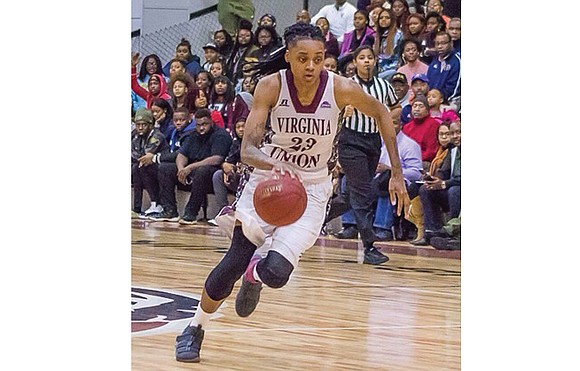 You might say Alexis Johnson has become the "Lady Walker Part Two" story for Virginia Union University basketball.
Last winter, Johnson graciously settled for playing second fiddle to Lady Walker. This year, Johnson is leader of the band for the defending NCAA Division II runner-up Lady Panthers.
Walker, who is now playing professionally in Spain, won CIAA Player of the Year and Defensive Player of the Year honors.
Johnson is in line for similar accolades as a senior, averaging 17.3 points, nine rebounds and a league-leading three blocked shots per game.
On Jan. 27, the energetic 6-foot Johnson blocked a school record eight shots against Elizabeth City State University.
"I've got a 7-foot wing span and I like to use it," she said in explaining her shot-erasing skills. "I enjoy providing inside protection."
Johnson, whose nickname is "KD," short for NBA superstar Kevin Durant, is the long arm of prevention in the VUU defense. The Lady Panthers are first in the CIAA, allowing its foes a puny 34.8 percent accuracy.
"Alexis has the longest arms I've ever seen, and they're heavy," said Coach AnnMarie Gilbert. "When she hits someone, they feel it, even though she is about the sweetest girl I've ever coached."
While the criminal justice major is posting statistics similar to those by Walker, Coach Gilbert notes their differences.
"Lady was more of a pure inside player," said the VUU coach. "Alexis can play on the perimeter and we even have her guarding wings at times. Alexis is freakish athletically."
As essential as Johnson is to Coach Gilbert's plans, she isn't always in the starting lineup. More often than not, Johnson enters the fray later in the first quarter.
"We study the stats and Alexis seems to do better coming off the bench," Coach Gilbert said. "She'll get 25 off the bench, and maybe 12 to 15 starting."
Johnson maximizes her court time. She averages 27 minutes per game, less than most of the CIAA's other statistical leaders.
Wearing the No. 23 jersey, Johnson had perhaps her best game on Saturday, Feb. 10, in a 67-52 win at Bowie State University that improved VUU's record to 22-2 overall, 12-1 in the CIAA.
In dominant fashion, Johnson collected 24 points, eight rebounds and three blocks.
It helps that she has a quality backup in Jasmine Carter, a 6-foot-2 junior from Richmond's John Marshall High School. Carter averages five points and six rebounds in 17 minutes per game.
Johnson hails from Hamilton, N.J., where she was Hamilton West High's all-time scorer.
Following stints at Monroe Community College in Rochester, N.Y., and ASA College in Brooklyn, N.Y., Johnson signed with Division 1 Towson University in Maryland.
"Something went wrong (with Towson) and that's how I found out about her," said Coach Gilbert.
It helped that Coach Gilbert is friends with former Towson Coach Niki Reid Geckeler, who helped steer Johnson to the Lombardy Street campus.
Geckeler is now an assistant at Georgetown University.
VUU improved to 21-2 overall and 11-1 in the CIAA with a 62-52 win at Virginia State University on Feb. 7.