Lady Panthers play at Barco-Stevens Frida
Fred Jeter | 3/11/2016, 1:03 p.m.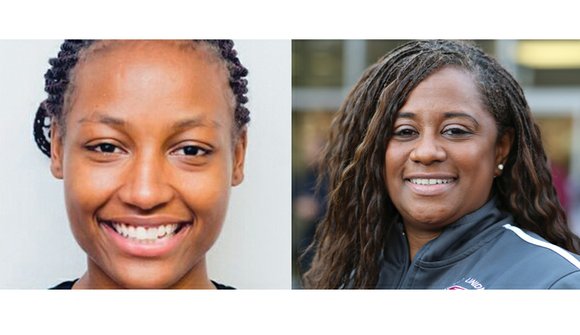 You can make a powerful case for Virginia Union University's Kiana Johnson being the best basketball player in the NCAA Division II.
As the 64-team Division II version of March Madness commences, VUU will try to prove that not only does it have the top player, but it has the top team player as well.
Coach AnnMarie Gilbert's Lady Panthers will carry a 25-2 record and a 12-game winning streak into the NCAA Division II Atlantic Regional competition at Barco-Stevens Hall on the VUU campus, 1500 N. Lombardy St.
VUU opens at 5 p.m. Friday, March 11, against Indiana University of Pennsylvania (21-8) from the Pennsylvania Athletic Conference.
A 5-foot-9 senior dynamo, Johnson has been scintillating in her single VUU season since transferring from Michigan State University, where she was a three-year starter.
The Chicago native leads the NCAA Division II in scoring (28.6 average), is second in assists (8.9), third in steals (4.19) and has a motor that never idles, much less stops. She rarely rests, as her average 38.2 minutes per game indicates.
Johnson pumped in a VUU-record 45 points in a Feb. 1 victory over Lincoln University. She scored 41 points in the CIAA semifinal game against Livingstone College and 32 points in the championship game against Shaw University.
Despite all that, the "Windy City Wonder" is no one-woman team.
Lady Walker, a 6-foot-2 junior from Cleveland, averages 18.4 points and 13.3 rebounds and would earn top billing on just about any other team in America.
Rahni Bell of Washington averages 9.6 points per game, Taylor White of LaPlata, Md., 8.7 points per game, and Ashley Smith of Bear, Del., 80 points per game.
Overall, the Lady Panthers average 85 points while allowing just 64.
The Atlantic Region champ will advance to the Elite Eight March 22-23 in Sioux Falls, S.D.
The NCAA Division II championship game will be Monday, April 4, in Indianapolis.
The regional field includes three CIAA teams — VUU, Shaw and Chowan universities. VUU won the NCAA championship in 1983. Shaw was the 2012 NCAA champ.