Lady Panthers seeking first title since 1982
Fred Jeter | 2/26/2016, 6:31 a.m.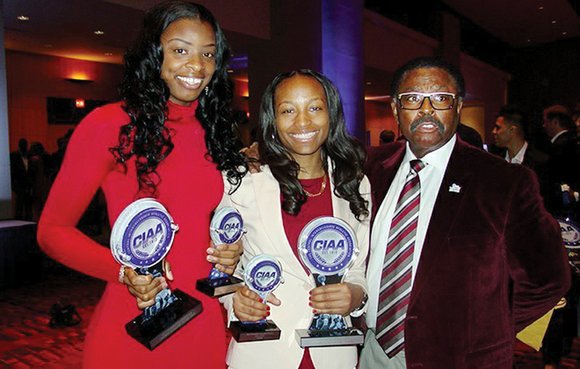 There is inspiring history associated with Virginia Union University women's basketball.
The problem is it's mostly "ancient" history.
First-year coach AnnMarie Gilbert, scintillating transfer Kiana Johnson and towering Lady Walker have helped freshen up the team's résumé.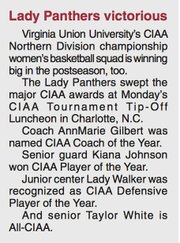 The Lady Panthers headed to Charlotte, N.C., this week as the CIAA tournament favorite. VUU women dominated the regular season, going 22-2 overall and 14-2 in the conference.
VUU has averaged 86 points while allowing 64.2.
A former three-year starter at Michigan State University, Chicago native Johnson led the league in scoring (28.0 per game), assists (9.2) and steals (4.3).  
Walker, a 6-foot-2 junior from Cleveland, was second in CIAA scoring (18.5 points) and first in rebounding (13.2).
Coach Gilbert is new to VUU, but her husband, Assistant Coach Jonathan Walker, was a Panthers standout during the Charles Oakley era of the 1980s.
The Lady Panthers' history brims with greatness and tragedy.
In 1982, beloved Coach Tom Harris collapsed and died of heart failure on the sidelines during the VUU versus Norfolk State University final at the Norfolk Scope.
Conference officials offered bereaving VUU the chance to bow out and have the contest declared a "tie."
Then known as the "Pantherettes," the team opted to play — and play they did, with all their hearts, winning what would be their only CIAA tournament in their fallen coach's honor.
Louis Hearn, who had been Coach Harris' assistant, took over the team under the most stressful of circumstances.
In 1983, a nucleus of the same cast won the NCAA Division II crown under Coach Hearn, beating defending champ California State Polytechnic University, Pomona, in the final in Springfield, Mass.
VUU narrowly missed repeating in 1984, falling to Central Missouri State University in the NCAA finals.
Golden era stars — all signed by Coach Harris — were Beanie Wooten, Vita Williams, Maria Nicholson, Paris McWhirter, Sylvia Walker and Denise Kizzie.
Coach Hearn (96-61 record 1982 to 1988) died in 2013.
VUU hasn't won a CIAA title since 1982 and has been back to the finals twice since then — in 1983 and 2004.
That's a long time to get by on memories.