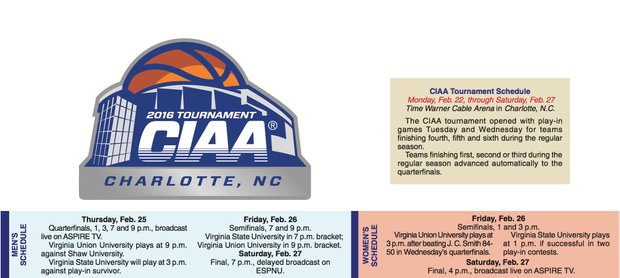 Stories this photo appears in:

to Iverson, comparing a college player to an all-time NBA great. But they're much the same in terms of size, speed, jumping ability, hand speed on defense and shooting." Wearing the No. 3 jersey, the number Iverson wore during an illustrious NBA career, Williams stands out statistically in many categories. On top of that, he's added a "wow" factor to VSU hoops. "I've had so many people ask me 'Who's No. 3?,' " said Coach Blow. "Some of his dunks are amazing for a player his size." Coach Blow was coaching at St. Augustine's University in 2012 when he began recruiting Williams at Louisburg College, a two-year program in North Carolina. When Coach Blow moved to Ettrick in 2013 as the Trojans' coach, he continued to recruit the Junior College All-American. Williams agreed to join Coach Blow at VSU, but there were extenuating circumstances that slowed the process. Academically, he needed work and enrolled at Vance-Granville Community College in Henderson, N.C., for the 2013-14 season. Then last year, he transferred to VSU but did not play while continuing to spruce up his academic résumé. Not yet qualifying for a scholarship, he paid his own way.

There is inspiring history associated with Virginia Union University women's basketball. The problem is it's mostly "ancient" history. First-year coach AnnMarie Gilbert, scintillating transfer Kiana Johnson and towering Lady Walker have helped freshen up the team's résumé.