Trojans ready with Kevin Williams
Fred Jeter | 2/26/2016, 6:36 a.m.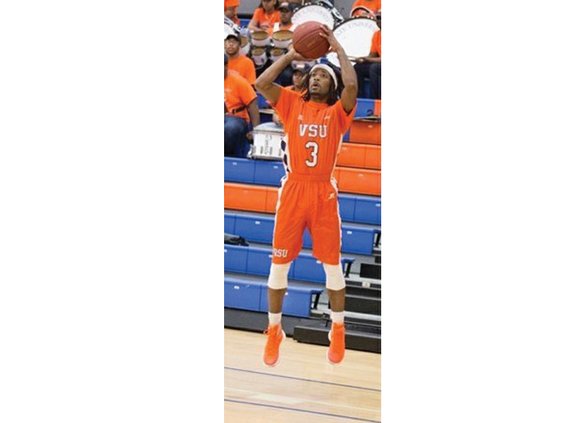 Kevin Williams was worth waiting for.
For two frustrating seasons, Virginia State University basketball Coach Lonnie Blow patiently cooled his heals, anticipating Williams' arrival as a Trojan.
Known as "Roc," Williams has demonstrated this winter why Coach Blow kept the faith.
The 5-foot-10, 170-pound junior from Franklinton, N.C., is arguably the tip-top reason VSU is 20-5 overall, 14-2 in the CIAA and heading to the CIAA Tournament this week in Charlotte, N.C., as the clear tournament favorite.
The Trojans men will open with a 3 p.m. quarterfinal game Thursday, Feb. 25.
VSU seeks its third CIAA title since the event's inception in 1946. The Trojans prevailed in 1947 with Coach Harry Jefferson and in 1988 under Coach Harold Deane.
Despite a gloomy past, the Trojans may face a rosy future due, in part, to Williams joining the team. Any rust from two years of inactivity quickly vanished.
As a newcomer, he leads the team in scoring (14.5 points average), assists (2.6), three-pointers (48 of 118, 41 percent), freethrow shooting (52 of 62, 84 percent) and minutes per game (28.3). 
The 23-year-old relies on exceptional quickness, court savvy and leaping to average 4.5 rebounds per game.     
"The player I really compare him to physically is Allen Iverson," said Coach Blow. "I know some will feel that's disrespectful to Iverson, comparing a college player to an all-time NBA great. But they're much the same in terms of size, speed, jumping ability, hand speed on defense and shooting."
Wearing the No. 3 jersey, the number Iverson wore during an illustrious NBA career, Williams stands out statistically in many categories.
On top of that, he's added a "wow" factor to VSU hoops.
"I've had so many people ask me 'Who's No. 3?,' " said Coach Blow. "Some of his dunks are amazing for a player his size."
Coach Blow was coaching at St. Augustine's University in 2012 when he began recruiting Williams at Louisburg College, a two-year program in North Carolina.
When Coach Blow moved to Ettrick in 2013 as the Trojans' coach, he continued to recruit the Junior College All-American.
Williams agreed to join Coach Blow at VSU, but there were extenuating circumstances that slowed the process. Academically, he needed work and enrolled at Vance-Granville Community College in Henderson, N.C., for the 2013-14 season. Then last year, he transferred to VSU but did not play while continuing to spruce up his academic résumé.
Not yet qualifying for a scholarship, he paid his own way.
"I didn't play pick games, IMs or anything," said Williams. "All I was concerned with was making good grades and becoming eligible."
Also, Williams noted that when he wasn't studying, he was doing what he could to help his infant daughter, Pashion Williams, living in North Carolina.
"Even though she's in Carolina, we have a very close relationship," Williams said.
Last season on game nights, Williams inconspicuously sat with friends in VSU's Daniel Gymnasium cheering section.
"I wanted to be out there so bad. It was very hard," said Williams.
Overhearing Williams' comment, a smiling Coach Blow chimed in: "It was hard on me, too."
---
By extraordinary standards set under former Coach Dave Robbins, Virginia Union University also is overdue for a CIAA title.
The Panthers won the CIAA 13 times between 1979 and 2006. But the team has gone six agonizing seasons without advancing.  
This year, the Panthers will be alive at least until the quarterfinals on Thursday, when the team faces Shaw University at 9 p.m. VUU lost 58-56 to Shaw Jan. 7 in Richmond.
VUU earned the No. 2 seed in the CIAA's Northern Division after defeating Chowan University Feb. 20 to finish 15-13 overall and 8-8 in the CIAA.
VUU Coach Jay Butler played on two tournament championship teams in the 1990s with Ben Wallace. He takes a talented team to Charlotte showcasing Ray Anderson.
The lithe junior from Wilmington, Del., was second in CIAA scoring (20.7 points per game). He has hit 52 percent from the field and 75 percent at the foul line, while also averaging 4.3 rebounds and 3.5 assists.
Despite individual accolades, the 6-foot-3 All-CIAA stalwart needs a strong tournament to establish himself as an "all-time" Panther. He is 0-3 in CIAA elimination games.