CIAA champs head to NCAA
VSU Trojans win crown for first time since 1988; Williams named MVP
3/4/2016, 7:29 a.m.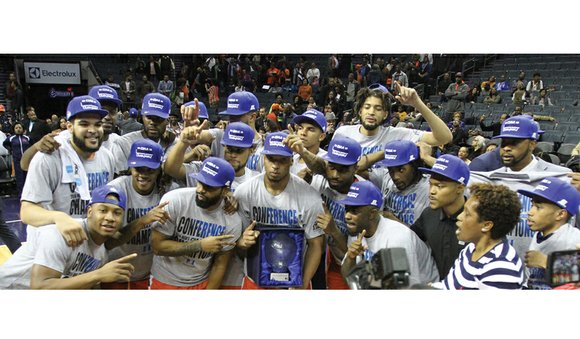 There is a saying that the best form of revenge is success.
That being the case, color Virginia State University's Kevin Williams revengeful, successful and, best of all, Most Valuable Player of the CIAA Tournament.
He was untouchable where it counts most — with a basketball in his hands.
Snubbed for in-season All-CIAA honors, Williams was named tournament MVP last Saturday after igniting the Trojans to their first CIAA championship title since 1988.
"We used it (not making All-CIAA) as a rallying stick," said VSU Coach Lonnie Blow. "We couldn't control the voting. But between the lines there's no vote."
A dynamic 5-foot-10 junior from Franklinton, N.C., Williams had 24 points, five assists and three steals in the finale as VSU topped two-time defending champion Livingstone College 89-79 before a Time Warner Cable Arena crowd and ESPNU national television audience.
In ousting Fayetteville State University, Bowie State University and Livingstone College, Williams, known as "Roc," tallied 57 points (19 of 37 from the field), with 18 rebounds and eight steals.
Also brilliant in the game against Livingstone was VSU's lone senior starter, Javon Moore, who tossed in a career high 30 points.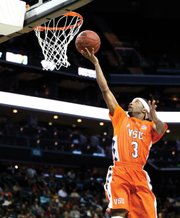 The victory advances VSU, now 23-5, to the NCAA Division II Atlantic Regional Tournament starting Friday, March 11, at Wheeling Jesuit University or West Liberty University, both in West Virginia.
It marks VSU's first NCAA bid since 1982 under Coach Floyd Laisure, when the Trojans lost at Mount St. Mary's University in the first round.
Coach Blow had nominated Williams for All-CIAA and for CIAA Player of the Year, feeling he was a shoo-in.
Williams was the statistical leader in several categories, including top scorer, while leading VSU to by far the conference's best record.
The squad was flabbergasted at the CIAA banquet, which was held the day before the tournament, when results of the voting by coaches were released and Williams' name wasn't mentioned.
"Other coaches told me they voted for him. I don't know how in the world it happened," said Coach Blow. "I really don't know who voted for him and who didn't. But we're OK with it now."
VSU's lone All-CIAA pick (on a 12-man team) was standout 6-foot-8 junior Elijah Moore (no relation to Javon Moore).
Coach Blow, in his third season at VSU, becomes the first coach in CIAA history to win the tournament as a coach from two different schools.
He guided St. Augustine's University to the CIAA crown in 2010. From there, St. Augustine's traveled to West Liberty for the NCAA regionals, where the team defeated Kutztown University of Pennsylvania before losing to West Liberty University.
The CIAA holds its tournament, an event dating to 1946, a week before most NCAA Division II conferences. Selection Sunday is March 6.
"That gives us two weeks to prepare, but also two weeks for everyone to be telling our players how great they are," said Coach Blow. "It can be a curse."
Regardlessm of what happens in West Virginia, VSU seems assured the best record in the Ettrick university's annals. According to VSU records, the top previous mark was 22-8 in 1973-74, with Harold Deane coaching.
The 1961-62 and 1962-63 teams, featuring future Harlem Globetrotters Frank Stephens and Ernie Brock, were a combined 38-15.
VSU's other CIAA crowns were in 1947 and 1988. The 1988 title, under Coach Deane, was the last time the Trojans made it to the final, until now. In fact, VSU hadn't made the CIAA semifinals since 2009.
"It's been a long time, and it's about time," Coach Blow said of the title. "These are great times at Virginia State."