Second round no charm in NCAA Division II: VSU Trojans lose 82-80 squeaker to West Liberty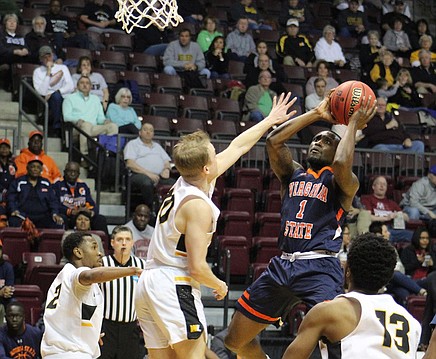 Virginia State University's best basketball season in school history stalled just this side of Pittsburgh.
In a close match, the Trojans lost 82-80 on Sunday to West Liberty University of West Virginia in the second round of the NCAA Division II Atlantic Regional games in Indiana, Pa.
Coach Lonnie Blow's squad had defeated Notre Dame College of Ohio 89-81 in Saturday's first round game despite a 44-point explosion from Notre Dame's Will Vorhees.
In the defeat, VSU's C.J. Wiggins had 14 points; Jalen Jackson, 13; Brandon Holley, 12; Cyonte Melvin, 11; and Andrew Corum, 10.
VSU finishes the season 28-5, with the CIAA Northern Division title and the CIAA Tournament championship to its credit.
The loss to West Liberty was just the second for the Trojans since Nov. 28. This also marked VSU's third NCAA appearance in the past four years under Coach Blow. On each occasion, the Trojans won their first round game before falling in round two. 
Now the rebuilding begins. VSU loses seniors Wiggins, Holley, Jackson and Melvin, as well as Jahmere Howze, the CIAA Tournament MVP, and guard Phil Owens.
The Trojans will welcome back Walter Williams for the 2019-20 season. Williams, also a senior, has been granted another year of eligibility after missing almost the entire season with a foot injury.