CIAA champs head to NCAA (Pt 2)
Lady Panthers celebrating title; Johnson clinches MVP
3/4/2016, 7:22 a.m.
Kiana Johnson and Lady Walker may be the best celebration combination since ice cream and cake.
They're the life of a Virginia Union University basketball party that's just spreading it wings under first-year Coach AnnMarie Gilbert.
With Johnson dazzling on perimeter and Walker inside the paint, VUU won its first CIAA tournament since 1982, ousting juggernaut Shaw University 70-66 in last Saturday's women's final.
"There's great chemistry between them," Coach Gilbert said of her co-starlets. "At the end of every close game, they make the big plays. You can count on it."  
The tense, see-saw victory at Time Warner Cable Arena in Charlotte, N.C., advances VUU (25-2, with 11 straight wins) to the NCAA Division II Atlantic Regional Tournament starting Friday, March 11.
VUU Athletic Director Joe Taylor has submitted a bid to host the eight-school regional at the Arthur Ashe Jr. Athletic Center in Richmond. Pairings and sites will be announced Sunday, March 6.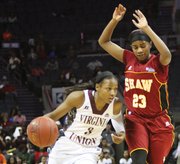 VUU is No. 1 in the CIAA and also in the NCAA Atlantic Region, which includes many Pennsylvania and West Virginia schools.
Chicago native Johnson, the "Windy City Wonder," had 28 points against Johnson C. Smith University, 41 points against Livingstone College and then 32 points in the final, including a 25-foot 3-pointer with 50 seconds left, giving VUU a 68-64 lead.
Johnson's fourth 3-pointer so excited Coach Gilbert that she did a sassy, high-heeled promenade down the sidelines in front of her bench.
"I had no idea (what I was doing)," Coach Gilbert said of her impromptu stroll. "I was just hoping to get out of there alive."
Coach Gilbert's fancy footwork, shown over and over on Aspire TV, caught the eye of commentator Stan Lewter, who noted, "Wow! How about that strut?"
Still, the game wasn't over.
Shaw University's Eboni Ross scored to make it 68-66 and then the Bears fouled Walker intentionally, away from the ball, with 7 seconds left on the clock.
Foul shooting isn't Walker's strength (48 percent), but the 6-foot-2 junior from Cleveland swished a pair. And a few seconds later, the Richmonders were slipping on CIAA championship caps and T-shirts.
A transfer from Michigan State, 5-foot-7 Johnson added Tournament Most Valuable Player to her regular-season Player of the Year plaque.
Runner-up for both titles was arguably teammate Walker, who saved 23 points and a whopping 20 rebounds for the finals.
Johnson and Walker scored the final 12 points for VUU.
During the season, Johnson averaged 29 points and nine assists. Walker averaged 19 points and 13 rebounds.  
VUU's other All-CIAA selection was 6-foot-2 senior Taylor White. VUU's third All-Tournament pick was junior Rahni Bell.
It helped that Lady Luck was on the Lady Panthers' side.
Shaw University's Tabatha Anderson, a guard who was second to Johnson in the CIAA in 3-point shooting, was 0-for-10 against VUU from the distance and 0-for-14 overall from the field.
Had even one of Anderson's 3-pointers found the nets VUU's three decades-plus title drought may not have ended.
VUU would prefer saying it made its own luck by harassing Anderson wherever she roamed.
"That was our game plan — to stop the threes. And we did a masterful job," said Coach Gilbert.
VUU is likely America's most improved squad. The Lady Panthers were a poor 9-18 a year ago in Coach Barvenia Wooten-Cherry's final season.
"Our returning players didn't like hearing it," Coach Gilbert said of last year's record. "But we needed to change the culture a bit — from hoping to win to expecting to win."
A parade of victories has ensued, with Johnson and Walker the high-stepping drum majors. The only losses were at Lincoln University, by 5 points, in December and at Shaw University, in overtime, in January.
Should the Lady Panthers survive the NCAA Atlantic Regional, the team would fly to Sioux Falls, S.D., for quarterfinals March 22 and semifinals March 23.
The NCAA finals, aka "The Last Dance," are set for April 4 in Indianapolis.
VUU would love celebrating that special occasion with Johnson and Walker during the game and with ice cream and cake afterward.