VUU coaches named CIAA Coaches of the Year
Fred Jeter | 2/24/2017, 12:48 p.m.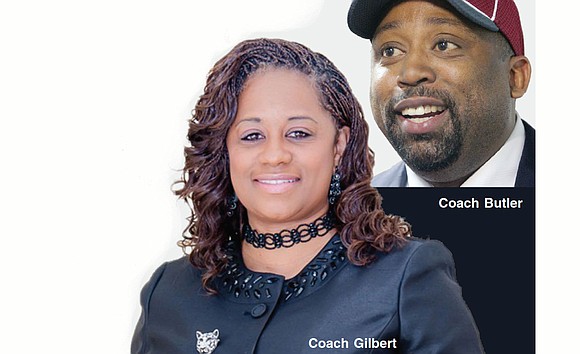 Virginia Union University may need to expand its trophy case following the CIAA Basketball Tip-Off Awards Luncheon on Monday in Charlotte, N.C.
Coach Jay Butler, the Panthers' men's basketball coach, and Coach AnnMarie Gilbert, the Lady Panthers women's basketball coach, were named CIAA Coaches of the Year.
This is the second consecutive year for Coach Gilbert to win the top coaching honor. Under her leadership, the Lady Panthers ended the season with a 22-3 record heading into the tournament. Although the team's record was by far the best, the Lady Panthers were tied with Virginia State and Chowan universities for the Northern Division championship. They entered the CIAA Tournament as the No. 2 seed.
Coaches Butler and Gilbert are in their second seasons at VUU.
Also, VUU senior Ray Anderson was selected as CIAA Men's Player of the Year, while Lady Panthers senior Lady Walker received the top honor among women.
"It's a great day for Virginia Union athletics," Coach Butler told the Free Press.
"Personally, it's a high honor that I never expected in year two. We just hoped to be a little better," he said. "Instead, we're Northern Division champions and No. 1 seed. It all starts with (VUU Athletic Director) Joe Taylor hiring me and Coach Gilbert."
Coach Butler came to VUU from the University of the District of Columbia, where he was the women's basketball coach. Coach Gilbert had coached most recently at Eastern Michigan University from 2007 to 2012.
This is the first time since 1985 that the CIAA men's and women's coaches of the year have been from the same university. Norfolk State University coaches received those accolades in 1985.
Coach Butler is the first Panther to be named coach of the year since former Coach Dave Robbins in 2007.
Anderson becomes VUU's first male Player of the Year since Darius Hargrove in 2006.
Walker also was named Defensive Player of the Year.
Walker succeeds another Lady Panther, Kiana Johnson, as female CIAA Player of the Year. Johnson was also the 2016 NCAA Player of the Year.
Lady Panthers Alexis Johnson (no relation to Kiana Johnson), Brittany Jackson and Jayda Luckie joined Walker on this year's women's All-CIAA first team.