VUU Lady Panthers win NCAA Division II quarterfinal game
3/24/2017, 7:53 p.m.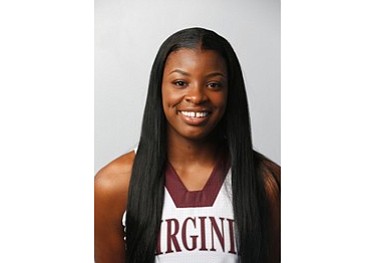 Perhaps it was an omen.
At one end of the Ohio Dominican University gymnasium in Columbus, Ohio, the word "PANTHERS" was written in huge block letters.
While host Ohio Dominican University's mascot is the Panthers, the familiar word made the visiting Virginia Union University's Lady Panthers feel like they were back in Richmond.
Far from home, the Lady Panthers certainly looked comfortable in defeating Columbus State University of Georgia 78-73 in Tuesday's quarterfinal game of the NCAA Division II women's basketball tournament.
Alexis Johnson and Lady Walker both registered double-doubles as VUU improved to 27-4.
Johnson had 22 points and 11 rebounds, while Walker added 17 points and 10 boards.
"We really played outstanding defense, especially in the second half," said VUU Coach AnnMarie Gilbert. "Defense is our staple. That's where we hang our hats."
Columbus State hit eight 3-pointers in the first half of the game, but the Lady Panthers adjusted defensively and held their opponent to zero connections beyond the arc during the second half.
Overall, VUU used a variety of defensive schemes to limit Columbus State to 37 percent (27-for-73) from the field.
The victory advanced VUU to Wednesday night's semifinal game, where the Lady Panthers beat California Baptist University 86-81.
The tournament's championship game is set for 7 p.m. Friday, March 24.
Ohio is familiar territory for Coach Gilbert, who played and coached at Oberlin College, and VUU senior center Walker, who is from Cleveland.
The Lady Panthers outscored Columbus State in the final quarter to end the Georgians' 22-game winning streak.
VUU qualified for the Elite Eight by winning the Atlantic Region last week at California University of Pennsylvania, where the 6-foot-2 Walker was named Most Outstanding Player.
In Ohio, the Lady Panthers are playing without All-CIAA guard Brittany Jackson, who was suspended from the team following the CIAA Tournament in Charlotte, N.C., for breaking team rules.
Other standouts against Columbus State were Ashley Smith, who scored 14 points, Rejoice Spivey, who passed for 10 assists, Rachael Pecota, who had 10 points with a pair of 3-pointers, and freshman Kishona Sutton, who had seven points and two steals.
VUU won the NCAA title in 1983 and was runner-up in 1984 under the late Coach Louis Hearn.
A year ago in Coach Gilbert's first season at VUU, the Lady Panthers advanced to the Elite Eight before being eliminated by Bentley University of Massachusetts in Sioux Falls, S.D.