VUU women return home to cheers despite loss in NCAA final
3/31/2017, 1:47 a.m.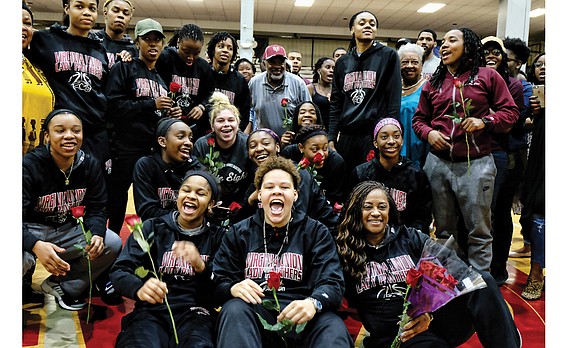 In judging the stunning success of Virginia Union University women's basketball, you hardly know where to begin.
Out of some 320 programs, the Lady Panthers finished second overall this season, losing last Friday in the NCAA Division II Tournament final 93-77 to undefeated Ashland University of Ohio.
Many would celebrate that — along with 28-5 record — as a crowning achievement. But ever the perfectionist, VUU Coach AnnMarie Gilbert still sees room for improvements.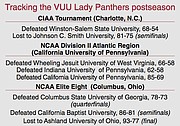 "There's still work to be done," the Lady Panthers second-year coach said after returning to the Richmond campus via bus last Saturday from the Elite Eight in Columbus, Ohio.
Just moments after an impromptu news conference at Barco-Stevens Hall, Coach Gilbert noted she would be back on the recruiting trail, striking while the iron is hot from rare national publicity. The CBS-Sports Network covered the women's final.
"We took on the No. 3, 2 and 1 seeds and nearly pulled it off. We nearly shocked the world," she said. 
After a pause, she added, "But we need a few more pieces. We're looking to the future."
Two-year tear: Inheriting a program that had been stuck in mediocrity for some 30 years, the Lady Panthers went 28-3 in Coach Gilbert's first season (2015-16) with Kiana Johnson, the National Player of the Year, carrying the torch.
Coach Gilbert vowed not to be a "one year wonder" and created this year's motto: "Unfinished Business."
Without Johnson, the re-stocked current edition of the team went 28-5, advancing two rounds further in the NCAA Tournament than last season. Their two-season ledger is 56-8.
Gazing ahead: VUU's list of 2017-18 returnees starts with the powerful and athletic 6-foot Alexis Johnson, who scored 70 points and grabbed 29 rebounds in Columbus.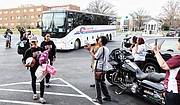 Also expected back next season are guards Jayda Luckie, Rejoice Spivey, Kishona Sutton and 26-year-old, 3-point shooter Rachael Pecota who was recruited to VUU from a local rec league.
What about Brittany? Remarkably, the Lady Panthers soared higher without leading scorer Brittany Jackson, who was suspended from the team after the CIAA Tournament for a disciplinary infraction.
All-CIAA Jackson, a do-it-all junior guard/forward, was averaging 19 points a game at the time of her suspension.
Asked if she would return next season, Coach Gilbert responded, "Maybe. She's still in school. It's all up to Brittany."
"The First Lady": Lady Walker was the NCAA Atlantic Region MVP and never took her foot off the gas in Columbus. The 6-foot-2 graduate student from Cleveland tallied 54 points and was relentless on the boards (41 rebounds) in Columbus.
The CIAA Player of the Year finishes as VUU's all-time rebounder (1,204) and fourth all-time scorer (1,513 points). She also had 211career blocked shots.
Walker will be missed, along with outgoing seniors Ashley Smith, the star of the semifinal game victory over California Baptist University with 28 points, and valuable sub Jamica Ruffin.
Columbus, adieu: If the tournament's final game had been anywhere else, VUU might have won it all. Finishing 37-0, Ashland University was fueled by a raucous "hometown" crowd that packed the 2,000-seat gymnasium at Ohio Dominican University.
VUU's traveling party of about 30 was greatly outnumbered, kind of like Gen. Custer at the Battle of the Little Bighorn.
Helping hands: Coach Gilbert's assistants are burly Jeff Edmonds, a former VUU player under Coach Dave Robbins, and Jasmine Young, among the all-time great players at Chesterfield's Monacan High School and East Carolina University.
Future Panther? One of the Virginia's premier eighth-grader players is Jada Walker, daughter of Coach Gilbert and her husband, Jonathan Walker.
An ultra-quick and savvy 5-foot-7 point guard, Walker attends Brookland Middle School in Henrico County and plays for Boo Williams' travel outfit.
She comes by her talent naturally. Coach Gilbert led the NCAA Division III in scoring at Oberlin College in Ohio and Walker had his number retired at VUU. It's not uncommon to see Jada practicing with the Lady Panthers and holding her own.
Set your schedule: Without prodding, Coach Gilbert told the media that next year's Elite Eight is moving from Columbus back to Sioux Falls, S.D., site of the 2015-16 event.
"Last year, we didn't play well there," she said. "We plan to go back."
Business is still unfinished, you might say.