VUU names Gilbert Lady Panthers coach
4/28/2015, 10:30 a.m. | Updated on 4/28/2015, 10:30 a.m.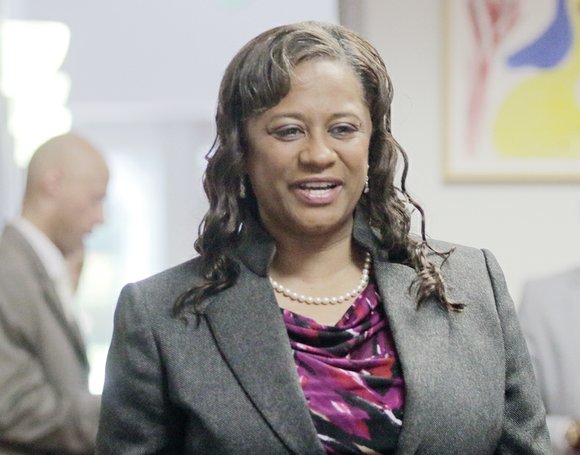 Throughout her married life, AnnMarie Gilbert has heard stories about basketball success at Virginia Union University.
Now she is in position to create fond VUU memories of her own — as VUU's eighth women's basketball coach.
Coach Gilbert succeeds Barvenia Wooten-Cherry, who resigned following a 48-85 record over five seasons.
Coach Gilbert, a native of Elyria, Ohio, and lifelong Midwesterner, considers herself part of VUU's extended inner circle.
"I don't think a day or a week has ever gone by during the past 13 years in which Jonathan didn't bring up Virginia Union," she said during Tuesday's announcement made at the L. Douglas Wilder Library & Learning Resource Center on VUU's campus.
"Even though I'm not a Union graduate, I feel I'm a part of this family … like I belong here."
Coach Gilbert was talking about her husband, Jonathan Walker, a 1990 VUU alumnus and former Panthers' All-CIAA guard.
VUU won CIAA titles in 1987 and 1989 with Walker as the primary ball handler, and advanced to four NCAA Tournament's with Walker in the lineup.
A jersey with Walker's retired number dangles from the VUU rafters at Barco-Stevens Hall. 
Coach Gilbert, 46, arrives on Lombardy Street with glossy credentials as a player and coach.
In two years at Oberlin College in Ohio, the 5-foot-5 guard tallied 1,527 points and led the NCAA Division III as a junior with 31.1 points per game.
In 1991, her 61 points against Allegheny College established the all-time, Division III one-game record.
After eight years as head coach at Oberlin from 1994 to 2002, she became assistant coach at Michigan State University. The Michigan State Spartans were 120-44 in her five years in East Lansing, Mich., and advanced to the 2005 NCAA finals before bowing to Baylor University.
From Michigan State, she became head coach at Eastern Michigan University, where she posted a 94-64 record that included a trip to the 2012 NCAA Tournament.
Her Eastern Michigan tenure, while outstanding on the floor, was tarnished by self-reported NCAA rules violations that resulted in various program restrictions.
More recently, she has coached the U-16 Michigan Cross-Over girls AAU team. Coincidentally, Cross-Over is playing in a tournament in Hampton this weekend.
"With Cross-Over, we've had hundreds of Division I players," said Coach Gilbert. "It's one of the top AAU programs in the nation — right up there with Boo Williams from this area."
At VUU, Coach Gilbert must replace Ashle Freeman, a graduating senior and all-time scorer for the team.
The team was 9-18 this past winter.
The top returnee is 6-foot-2 Lady Walker of Ohio, an All-CIAA tournament pick.
"I'll promise you," Coach Gilbert told Walker at the press conference, "we'll get you ball."
Her promise was met with loud applause by a row of VUU team members in attendance.
VUU last won the CIAA title in 1982 under the late Coach Tom Harris. The Lady Panthers went on to win the NCAA Division II national title in 1983 under Coach Louis Hearn.
VUU finished second in the NCAA Tournament in 1984, before falling on harder times.
"I'm here to help restore the glory," Coach Gilbert said.
Although details remain incomplete, Coach Gilbert indicated Coach Jasmine Young will become her assistant coach.
Young, a former Monacan High School and East Carolina University star, served as interim coach between Coach Wooten-Cherry's departure and Coach Gilbert's arrival.
Coach Gilbert and Walker have two children, 13-year-old Jada and 10-year-old Jaden.
Her husband and children had front-row seats for the news conference.
Coach Gilbert and Walker met while she was coaching at Oberlin and he was coaching at a nearby community college.
"On our first date, Jonathan took me to the gym for a free-throw shooting contest," Coach Gilbert recalled with a wide smile.
"Jonathan won the first game, but I was determined to beat him. I bet we shot in that gym for seven hours. We stayed until I won."