VUU women's coach resigns; men's coach under evaluation
3/14/2015, 8:35 a.m. | Updated on 3/14/2015, 8:35 a.m.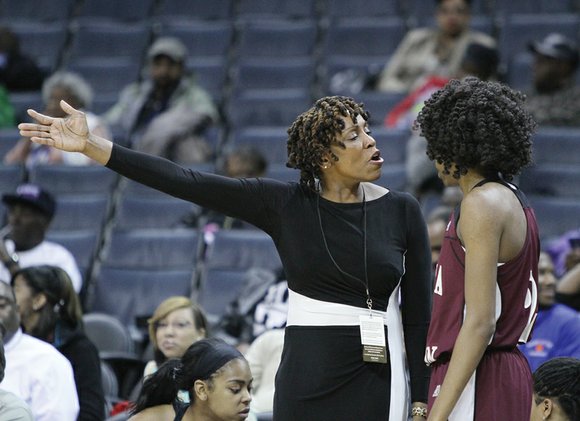 Barvenia Wooten-Cherry has resigned after five seasons as Virginia Union University women's basketball coach.
Her Lady Panthers were 9-18 overall this past season, 4-12 in the CIAA and advanced to the second round of the recent conference tournament in Charlotte, N.C.
In accepting Coach Wooten-Cherry's resignation, VUU Athletic Director Joe Taylor applauded her for her efforts, but noted that college coaching is a bottom-line occupation.
"Off the court, Coach Wooten-Cherry did a lot to assure it was a good experience for her players," said Taylor. "But at this level, it's about wins and losses."
Free Press efforts to reach Coach Wooten-Cherry at the school were unsuccessful.
In an interview with the Free Press, Taylor failed to offer a ringing endorsement for VUU men's basketball Coach Tony Sheals.
In Coach Sheals' first season, the Panthers were 10-17 overall, 5-11 in the CIAA and lost their first game in the conference tournament in Charlotte.
This is the sixth straight year that VUU has failed to advance in the CIAA tournament.
At one point this season, VUU's men's team lost 11 straight games before rallying near the season's end to win four of five games at one stretch.
"At the end of every season, we evaluate our coaches and our programs," said Taylor.
"In Coach Sheals' case, we're still evaluating," he said.
A native Floridian, Coach Sheals came aboard when Luqman Jaaber's contract was not renewed after three seasons.
Coach Sheals cleaned house. Only two players from Jaaber's roster were retained. 
Since becoming VUU's athletic director less than two years ago, Taylor has had to hire a new football coach, men's basketball coach and now faces the task of bringing in a new women's basketball coach.
"Never a dull moment around here," said Taylor.
Despite an overall record of 48-85, Coach Wooten-Cherry's coaching career at the Lombardy Street University featured several high points.
She was chosen CIAA Coach of the Year after her team's record significantly improved from 3-23 during her first season in 2010-2011, to 12-14 and winning the CIAA Northern Division title in 2011-2012.
In January 2012, Coach Wooten-Cherry was recognized at the NCAA coaching convention in San Diego for being named to the 40th anniversary Tribute Team for all-round achievement.
Her VUU stars included her daughter, Vicki Collier, who was All-CIAA in 2013, and Ashle Freeman, who this year set the school's all-time scoring mark.
Still, she was unable to attain the same success as a coach that she did as a VUU player. A three-time, All-CIAA pick, the Cincinnati native led VUU to the 1983 NCAA Division II title, earning tournament MVP honors.
She scored 25 points and collected 15 rebounds in VUU's win over Cal Poly-Pomona in the finals in Springfield, Mass.
In 1984, Coach Wooten-Cherry's senior year, VUU returned to the NCAA championship game, only to lose to Central Missouri State.
Playing under coaches Tom Harris and Louis Hearn, Coach Wooten-Cherry's career totals included 1,534 points and 724 rebounds.
Prior to returning to her alma mater, Coach Wooten-Cherry coached 10 years at Prince George's Community College in Maryland. Three times she was named Maryland Junior College Coach of the Year.
Coach Wooten-Cherry is a member of the VUU, CIAA and Cincinnati Public Schools Halls of Fame.
Her VUU number has been retired and her jersey hangs from the rafters at Barco-Stevens Hall.