Lady Walker and the Cleveland-VUU connection
11/24/2016, 10:39 a.m.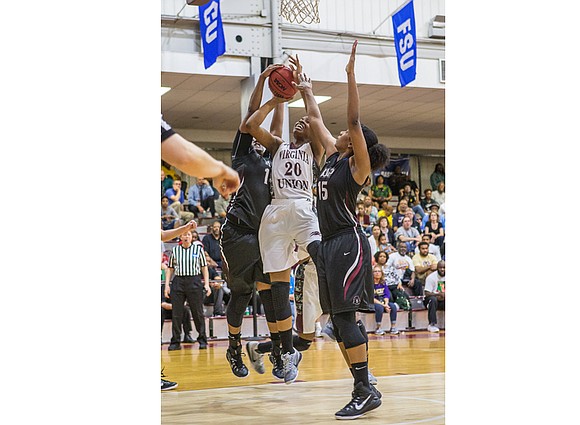 It's a small world.
If you didn't believe that before, you will with Virginia Union University basketball standout Lady Walker.
For starters, her first name really is Lady. She has the same name as her fraternal grandmother.
"It's funny," she said with a smile. "I'll hear someone on the street say, 'Hey, Lady!' and I think they're talking to me. And then I see they're calling someone else."
And, yes, she really is all of 6-foot-2, making her among the tallest ladies — and certainly the tallest named Lady — to don the Panthers' maroon and steel colors.
Without much prodding, she shows a guest how she can touch the 10-foot rim — a rare quality for a woman. With an easy, short approach, she stretches her fingertips two inches over the east rim at VUU's Barco-Stevens Hall without benefit of a warm-up.    
Walker was a major cog in the Lady Panthers' 28-3 CIAA and NCAA Atlantic Region championships last season. She began her final season at VUU with 1,028 points, 853 rebounds and 161 blocked shots.
She dominates in the paint and has the athletic ability to get involved all over the floor.
"Lady will definitely play pro ball," said Coach AnnMarie Gilbert. "She's so quick for her size. And in addition to her on-court skills, she really hypes the team up."
From Cleveland's East Side, Walker starred at Glenville High School under Coach Renee Wright, who is the sister of former 1980s VUU standout Jonathan Walker.
Asked why she came to VUU, Walker pointed to the Barco-Stevens rafters and Jonathan Walker's honored No. 11 jersey.
Closely following his sister's program, Jonathan Walker — no relation to Lady Walker other than by "VUU Family" — convinced Lady Walker and her Glenville teammate, Jenae Robinson, to visit VUU and explore the HBCU experience.
"We were like a package deal," Lady Walker said of she and Robinson, who wound up playing VUU basketball and volleyball.
At Glenville, Walker and Robinson helped the Tarblooders to three straight Cleveland Metro School District titles.
Walker's first coach at VUU was former Panthers' great Barvenia Wooten-Cherry, star of the 1983 NCAA Division II championship team. As a freshman, Walker was an academic redshirt.
"I came in as a half qualifier," she said, "and I graduated with honors. I'm proud of that."
She earned her bachelor's degree in criminal justice last spring. Now she's pursuing a second degree in cyber security.
Last year, following Wooten-Cherry's resignation, Gilbert was named coach. She brought her husband, Jonathan Walker, along as her assistant.
Jonathan Walker had no idea five years ago when he encouraged Lady Walker to attend VUU that he and his wife would some day be coaching her at his alma mater.
"It's crazy," said Coach Gilbert, shaking her head at the thought.
There's more.
When Coach Gilbert was being interviewed for the position, VUU's Interview Committee included — you guessed it — Lady Walker.
"I definitely put in a good word for her," Walker said. "Coach G is the best coach in the nation."
And the Cleveland-VUU connection doesn't stop there.
Now Walker, the former recruit, has become the recruiter.
The VUU roster includes promising freshman Lawren Nelson from Cleveland — and you guessed it — Glenville High.
"Lady is the reason she's here," said Coach Gilbert of Nelson. "There are lots of good players there. Go Glenville!"
Cleveland has produced many of VUU's all-time male players — Charles Oakley, Derrick Johnson, Ben Wallace, Roosevelt Wallace, Lamont Echols and Jonathan Walker.
It's 471 miles from Richmond to Cleveland but, based on VUU hoops history, you'd almost think they're twin cities.