WNBA overlooks VUU champ
4/22/2016, 6:38 a.m.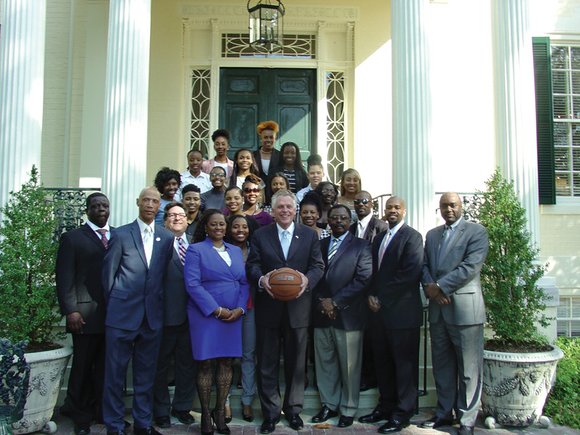 Virginia Union University's Kiana Johnson impressed just about everyone during basketball season — everyone, that is, but the WNBA scouts.
Despite being the named the NCAA Division II National Player of the Year, the Chicago native was not selected in last week's WNBA draft held at Mohegan Sun Arena in Connecticut.
It was a three-round draft, with the 12 WNBA teams selecting a total of 36 athletes from U.S. colleges and other countries.
Johnson was hopeful of getting picked, based on her sensational senior season under first-year VUU Coach AnnMarie Gilbert.
The 5-foot-6 dynamo led the nation in scoring (29.2 points per game) and was second nationally in assists (8.6 assists per game).
She nailed 41 percent of her 3-pointers, shot 82 percent from the foul line and defensively made 4.1 steals per contest.
Rarely rested, she averaged 38.3 minutes per 40-minute game.
Johnson led the VUU Panthers to a 28-3 record that featured CIAA and NCAA Atlantic Region championships. It was VUU's first CIAA title since 1983.
Johnson was CIAA and Atlantic Region Player of the Year before being National Player of the Year.
Despite all that, draft history was not on Johnson's side.
Since the inception of the WNBA draft in 2008, only one Division II player has ever been picked for the women's league. That was British native Johanna Leedham, who played at Franklin Pierce University in New Hampshire.
Leedham was selected by the Connecticut Sun in the third round of the 2010 draft, but ultimately did not make the team.
No player from a historically black college or university has ever been picked in the WNBA draft.
Johnson, however, falls into a distinct category because she was a three-year starter at Michigan State University before transferring to VUU.
One of Johnson's former teammates at Michigan State, Aerial Powers, was the WNBA's fifth overall pick this year by the Dallas Wings.
Panthers Coach Gilbert told the Free Press that she was contacted by one WNBA team and a chance remains that Johnson could sign as a free agent.
"They told Kiana to 'be ready and to keep her bags packed,' " Coach Gilbert said. As the Free Press went to print on Wednesday, there had been no further contact.
Johnson has a "representative," according to Coach Gilbert, and has received numerous opportunities to display her skills overseas.
WNBA training camps open Sunday, April 24. The regular season starts May 14.