UR chooses Ronald A. Crutcher as next president
Joey Matthews | 2/26/2015, 5:45 a.m. | Updated on 2/26/2015, 5:45 a.m.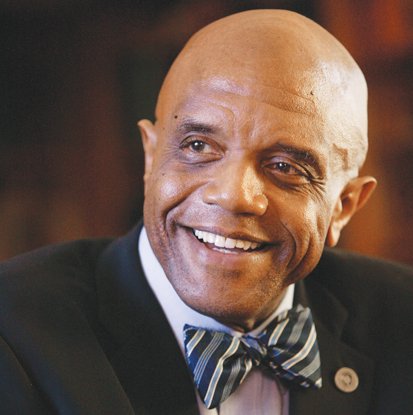 For the first time in the 185-year history of the University of Richmond, the new head of the private liberal arts college that borders Richmond and Henrico County will be an African-American.
Dr. Ronald Andrew Crutcher has been named as the 10th president of the university.
The announcement was made Monday at the institution founded in 1830.
Dr. Crutcher, who turns 68 Feb. 27, comes to Richmond from Wheaton College in Norton, Mass. He served as president from 2004 until June 2014, and currently is president emeritus at the private coed university that has about 1,600 undergraduate students.
At the University of Richmond, he will succeed President Edward L. Ayers on July 1. Dr. Ayers will remain on faculty and continue to teach.
"I am always drawn to institutions that are committed to realizing the transformative power of education — for both individuals and society," Dr. Crutcher said in a statement.
"This is what motivates and inspires me, and it is something Richmond does very well."
The Cincinnati native is scheduled to meet university officials Feb. 27 when he visits the UR campus with his wife, Dr. Betty Neal Crutcher, who consults and leads workshops in cross-cultural mentoring. Dr. Crutcher will address the campus community at a 2 p.m. program at the Robins Center, followed by a reception.
The UR search committee was co-chaired by Allison P. Weinstein, a member of the board of trustees, and George W. Wellde Jr., trustee emeritus and past rector of the university. The search committee included trustees, alumni, faculty, staff and student representatives, according to university officials.
"The board is thrilled to have Ron Crutcher as the university's next president," said UR Rector Patricia L. Rowland. "He embodies the excellence that defines the university and is deeply committed to the teacher-scholar model that allows Richmond to make a transformational difference in students' lives."
During Dr. Crutcher's presidency at Wheaton, the university's endowment increased from $139.5 million in 2004 to $193.5 million in 2014, according to Wheaton spokesperson Michael Graca.
By comparison, UR has an endowment of $2.3 billion, according to spokesperson Cynthia Price. The campus has 4,180 students. About 9 percent, or 376, are African-American, Ms. Price stated.
She said 5 percent, or 20, of the university's 400 full-time faculty members are African-American.
Dr. Crutcher also is a gifted classical cellist, a former member of the Cincinnati Symphony Orchestra and distinguished professor of music. He also will be a professor of music at UR.
From 1999 through 2004, he was provost and executive vice president for academic affairs at Miami University of Ohio.