Personality: Simeon Saunders Booker Jr.
Spotlight on award-winning journalist whose work was pivotal to civil rights
1/23/2015, 11:42 a.m.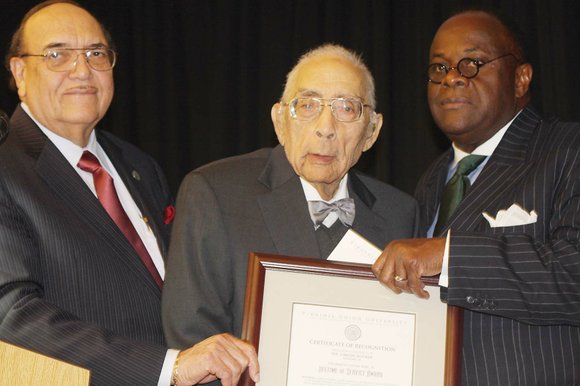 Trailblazing journalist Simeon S. Booker Jr. recalls the many death threats and acts of intimidation he endured covering pivotal events during the Civil Rights Movement as a journalist for Jet and Ebony magazines.
"It was harrowing," says Mr. Booker, now 96.
"It was a very difficult ex- perience," he adds. "But it just encouraged me to continue to battle segregation to improve the quality of life for my people in the South."
For his vast contributions in advancing the nation and the cause for civil rights, Mr. Booker was honored with the Martin Luther King Jr. Lifetime of Service Award at last week's Community Leaders Breakfast at Virginia Union University during the annual King commemoration. Mr. Booker is a VUU graduate of the Class of 1942.
During his iconic, award-winning career that spanned more than five decades, Mr. Booker covered events that changed this nation, such as the heroic steps of nine African-American students — known in history as the "Little Rock Nine" — to attend all-white Central High School in Little Rock, Ark., in 1957, and the Selma to Montgomery, Ala., march for voting rights in 1965, now documented in the movie "Selma."
But he gained the most acclaim for his fearless reporting on the 1955 murder of 14-year- old Emmett Till in Money, Miss., and the subsequent trial.
Mr. Booker recounts the trial, in which two white men were accused of killing the youth, as if it were yesterday.
Mr. Booker recalls how he befriended Emmett Till's mother, Mamie Till, as he covered the story of her son's murder. His body was dumped into the Tallahatchie River after being weighted down with a 70-pound cotton gin fan tied to his neck with barbed wire.
Mr. Booker's riveting stories and accompanying photographs in Jet captured the world's atten- tion and showed the racist terror campaigns waged on behalf of Jim Crow.
He reported how Mrs. Till insisted her son have an open - casket funeral in his native Chicago, showing his bloated, mutilated body "to let the world see what they did to my son."
Mr. Booker says he and a few other African-American reporters covering the trial were assigned to a small table — along with members of Emmett Till's family — at the back of the courtroom. By contrast, about 100 white reporters documented the historic event sitting near the front of the courtroom.
He recollects how enraged Tallahatchie County Sheriff C.H. Strider stormed up to the African-American press table a few days into the trial.
"He said, 'Has anyone seen that nigger reporter Simeon Booker?' '' Mr. Booker recalls. "Before anyone could bat an eye, Jimmy Hicks (a reporter with the Amsterdam News in New York) said to Sheriff Strider, 'He left yesterday.'
"Sheriff Strider said, 'You tell him if I ever see him again, I'm going to separate his neck from his head.' '' He recalls the "circus-like" atmosphere surrounding the trial and speaks of jurors, courtroom spectators and even the presiding judge, Curtis Swango, drinking soft drinks during the proceedings, and some even popping beers.