Simeon Booker, 'dean of black journalists,' succumbs at 99
12/15/2017, 7:02 a.m.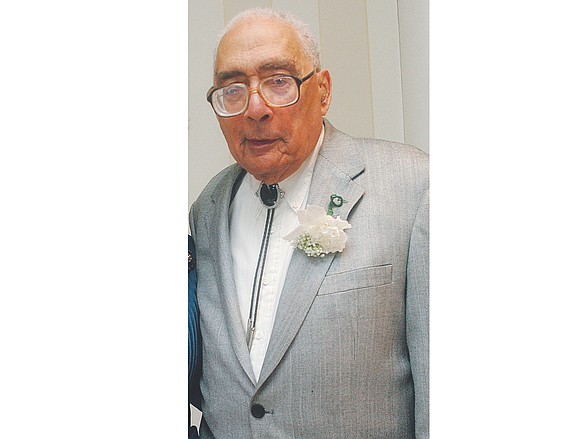 By Reginald Stuart
Simeon S. Booker Jr. never lived in Richmond during his nearly 100 years on Earth. Still, at the height of his career, it seemed he was always in town somewhere.
Mr. Booker's presence could be felt from the former Branch's Barber Shop and Oatmeal Grocery Store on Mosby Street to Springer Drug Store on Venable Street to Antoinette's Beauty Shop on 3rd Street to the parlors of Chiles, Scott's and Mimms funeral homes. He was at the airport, the bus stations and the train station.

Mr. Booker was the journalist who chronicled African-American life in America — its ups and downs, exhilarating and disgusting moments and all points in between — as a reporter for JET and Ebony magazines for 50 years.
Mr. Booker died Sunday, Dec. 10, 2017, at a hospice in Solomons, Md., according to his wife, Carol. He was 99, dying a legend in his own time, according to those who knew him and those who knew his work.
A 1942 graduate of Virginia Union University from Baltimore, Mr. Booker was the reporter who, in 1955, helped bring national attention to the racial atrocities taking place in the South with his story about the brutal murder of 14-year-old Emmett Till in Money, Miss., where he had been visiting relatives.
The Illinois teen had been beaten to a pulp then shot in the head before his body was dumped in the Tallahatchie River, weighted down with a 70-pound cotton gin fan tied to his neck. Two white men reportedly were set on punishing the young man for allegedly whistling at a white woman at a neighborhood grocery store.
Mr. Booker also covered the subsequent trial of the men who were acquitted by an all-white jury.
Mr. Till's mother insisted on showing his mutilated body in an open-coffin funeral in Chicago, and Mr. Booker's story and the accompanying photos by JET photographer David Jackson were seen around the nation.
Dr. Brenda Williams Jones, a Richmond native who described herself as a reader of JET from her childhood until it ceased publication in June 2014, recalled seeing Mr. Booker's story, one which had been ignored by the white-owned media across the nation until the publication in JET.
"It was the saddest thing I ever saw," Dr. Jones said.
Like scores of Richmonders and people across the country, Dr. Jones said she depended on the weekly JET and its monthly sister, Ebony, "to know what's happening" in black America.
Mr. Booker's reporting and weekly column, "Ticker Tape," were staples of the pocket-sized magazine that was a treasure trove of news nuggets. Mr. Booker's reporting about the Civil Rights Movement from the 1950s through the 1970s persuaded major media organizations that coverage of civil rights activities was unavoidable and necessary.
Mr. Booker became JET's Washington bureau chief shortly after the Mississippi trial until his retirement in 2007 at age 83. He became known as the "dean of black journalists," his work helping JET's circulation soar past the estimated 700,000 copies sold weekly at its peak.