Personality: Simeon Saunders Booker Jr.
Spotlight on award-winning journalist whose work was pivotal to civil rights
1/23/2015, 11:42 a.m.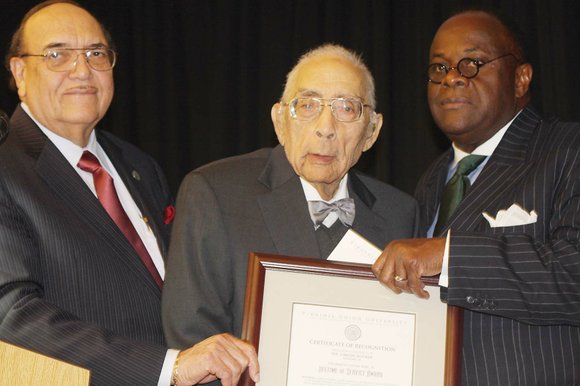 "It was a rough time," Mr. Booker recounts.
The accused killers — Roy Bryant and J. W. Milam — were found not guilty by an all-white, all-male jury of 12. The two men later admitted to the crime.
Mr. Booker's reporting of the trial electrified the world.
He is credited with helping focus the eyes of the world on the Civil Rights Movement and forever changing history. Mr. Booker was named Jet's Washington bureau chief shortly after the end of the trial and served in that capacity until 2007, when he retired at age 88.
Mr. Booker today lives in Washington with his wife of 41 years, Carol.
Now wheelchair-bound, the legendary journalist still weaves history through his writing.
In 2013, he released the latest of his three books, "Shocking the Conscience," which tells of his more than half century on the front lines of civil rights and national politics.
Mr. Booker has written the foreward for an autobiography, "Alone Atop the Hill," by Alice Dunnigan, scheduled for release later this month. She was the first black female journalist in the White House Press Corps, the U.S. Supreme Court and the House and Senate galleries.
Here's a look at this week's Personality, Simeon S. Booker:
Birthplace and date: August 1918 in Baltimore, then moved to Youngstown, Ohio, at age 6.
Family: Wife, Carol, and son, Theodore.
Community involvement: Member of Alpha Phi Alpha Fraternity Inc.
What did it mean to receive the award from Virginia Union: It was a great honor for me as an alumnus of the school that they would recognize me.
What other awards have you won for your distinguished work: I was inducted into the National Association of Black Journalists' Hall of Fame in 2013. In 1982, I became the first African-American journalist to win the National Press Club's Fourth Estate Award, and I also won the Newspaper Guild Award and a Wilkie Award.
When did your journalism journey start: I had a poem published by the Youngstown Vindicator when I was in the fourth grade and submitted sports stories while I was in high school and college.
Where was your first big newspaper job: I worked at the Baltimore Afro-American and the Cleveland Call and Post during the 1940s. I was bureau chief at the Washington Post from 1951 to 1953.
How long did you work for Jet and Ebony: From 1953 to 2007, when I retired.
How did you and your wife meet: We were covering the American Negro Leadership Conference on Africa in Washington in the late 1960s. She was a reporter for the Voice of America. I was working with Jet and Ebony. We were married in 1973.
How many copies of Jet sold following the verdict in the Emmett Till trial: I don't know, but the first run sold out, so they ordered another run and that sold out. Then they had a third run.
Who were some of the black journalists that you knew during the Civil Rights Movement: Jimmy Hicks, L. Alex Wilson and Moses Newson with the Memphis Tri-State Defender (later Chicago Defender).