Personality: Simeon Saunders Booker Jr.
Spotlight on award-winning journalist whose work was pivotal to civil rights
1/23/2015, 11:42 a.m.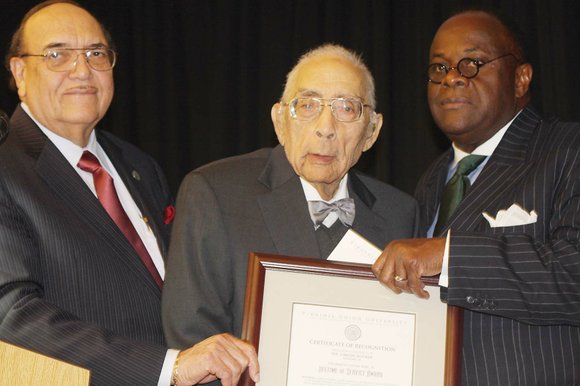 Who influenced you the most: Carl Murphy, former publisher of the Afro-American, and my uncle, James H.N. Waring Jr. They were classmates at Harvard University. They would take me to Harvard-Yale boat races. They encouraged me to become a journalist.
How many presidential administrations did you cover: Ten.
Which president was most committed to the advancement of civil rights: Even though Lyndon Johnson signed the Civil Rights Act of 1964 and Voting Rights Act of 1965, I always felt the spirit of his predecessor, John F. Kennedy, was the turning point.
Is the Black Press relevant today: It always will be, even when it's not on the front line sometimes. It's in a position to come to the rescue if necessary.
What is the responsibility of the press today, particularly the Black Press: I think the biggest role we have is a high percentage of our people are uneducated and unemployed and we've got to rescue as many of them as we can.
How do you start your day: With a breakfast of Honey Nut Cheerios.
What is your favorite late-night snack: Yogurt.
How do you unwind: I like to play dominoes, poker and Solitaire, read the newspaper (Washington Post) and watch TV.
How would you describe yourself: I'm relaxed, always positive, friendly and non- judgmental.
What is your legacy: I'm the son of a Baptist minister who always tried to report the truth and advance the cause of my people.