We shall overcome
Charleston church massacre spurs removal of racist symbols
Jeremy Lazarus | 6/26/2015, 11:02 p.m. | Updated on 6/26/2015, 11:03 p.m.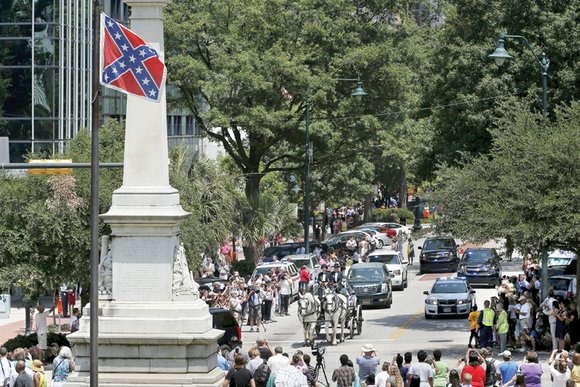 The nation is still reeling from the bloodbath in a historic African-American church in Charleston, S.C. — evidence of the racial hatred that lies just below the surface.

In one of the most deadly domestic terrorist hate crimes in recent years, a white supremacist spent an hour in Bible study last week and then pulled out a gun and began blasting those who had welcomed him into their midst at Emanuel African Methodist Episcopal Church.
He killed nine people, including the pastor, the Rev. Clementa C. Pinckney, 41, a much admired and long-serving South Carolina state senator who fought for the underserved. Six women and two other men, ranging in age from 26 to 87, also died in the rampage.
The perpetrator, 21-year-old Dylann Storm Roof, was captured a day later, on June 18, more than 100 miles away in Shelby, N.C., after a sharp-eyed florist in the small town spotted him and his car.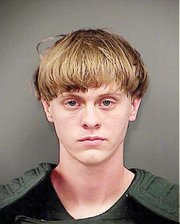 President Obama expressed the feelings of many when he said, "There is something particularly heartbreaking with (this) happening in a place in which we seek solace and we seek peace."
The outrage over Mr. Roof's racially motivated attack has given new energy to longstanding efforts to eliminate symbols of the hate he embodies, most notably the Confederate flag. Proposals to remove the flag from statehouses, state license plates and store shelves are winning wide support in numerous states.
The atrocity immediately stirred memories of the outrages of the Civil Rights era. Most cited — the Ku Klux Klan bombing of a Birmingham, Ala., church. Four little girls were killed and dozens of other worshippers and passers-by were maimed and injured.
The purpose of these acts: To terrorize African-Americans and halt their civil rights efforts.
The shooter in Charleston began a racial rant as he fired on the unsuspecting church members. A survivor, who said Mr. Roof spared her so she could tell what happened, reported him saying: "You rape our women, and you're taking over our country. And you have to go."

This new act of domestic terrorism comes on the heels of the "Black Lives Matter" campaign — prompted by police killings of unarmed black men. One took place in early April in North Charleston, a few miles from the AME church whose founders included Denmark Vesey, who plotted a slave uprising that ultimately failed nearly 200 years ago.
For many, the outrageous attack was more than a hit against peaceable people engaged in expressing their faith; this was a hit against a symbol of black freedom.
"That's why so many folks are so upset. This is a church that represents so much about the rich history and tradition of African-Americans," said Dr. Robert Greene, who teaches the history of the 20th-century South at the University of South Carolina.
The saving balm from this horrific slaughter has been the almost universal reaction of grief, support, unity and love — clearly not what the murderer hoped for.
He told authorities he wanted to trigger a "race war."