Roof guilty in church massacre
12/23/2016, 5:51 p.m.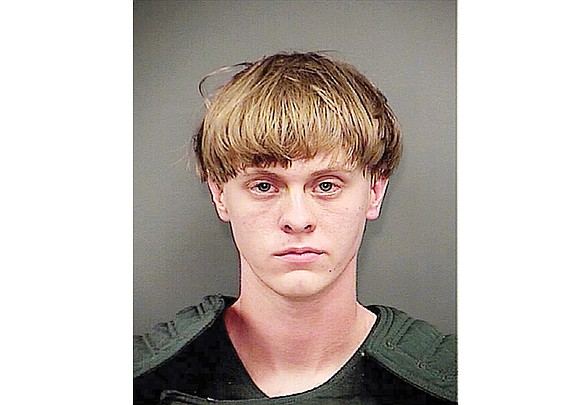 Reuters
CHARLESTON, S.C.
The jury in the federal hate crimes trial of avowed white supremacist Dylann Roof found him guilty on all counts for gunning down nine African-American parishioners at a historic church in Charleston, S.C., last year.
Twelve jurors deliberated for a little under two hours before reaching a verdict on Dec. 15. Their unanimous decision came after six days of chilling testimony about the bloodshed during a Bible study at Emanuel African Methodist Episcopal Church on June 17, 2015.
The jurors will return Tuesday, Jan. 3, to decide whether Mr. Roof should be sentenced to death or life in prison.
Mr. Roof, 22, showed no emotion as the guilty verdicts were read on 33 charges of federal hate crimes resulting in death, obstruction of religion and firearms violations.
The victims' family members, who sat through the trial as lawyers presented graphic crime scene photos and details about Mr. Roof's months of planning for the attack, felt a sense of relief.
"I am just overjoyed that the judicial system, the jurors, saw fit to give us this triumph," said Sharon Risher, 58, whose mother, Ethel Lance, was killed. "It gives us an opportunity to start the healing process."
South Carolina Gov. Nikki Haley also welcomed the verdict. In the aftermath of the massacre, which intensified the debate about race relations across the nation, Gov. Haley led a push that removed the Confederate battle flag from the state capitol grounds in Columbia.
The flag was carried by pro-slavery Confederate forces during the Civil War and is used by many, including Mr. Roof, as a racist emblem.
"It is my hope that the survivors, the families and the people of South Carolina can find some peace in the fact that justice has been served," Gov. Haley said in a statement.
Mr. Roof's trial was one of two racially charged proceedings that played out in recent weeks in courthouses across the street from each other in the heart of Charleston's downtown.
A state murder trial against a former North Charleston police officer who shot and killed an African-American man in the back as he was fleeing a traffic stop last year ended on Dec. 5 in a mistrial after jurors deadlocked.
Mr. Roof's guilt was not in dispute. He had offered to plead guilty if prosecutors would forego seeking the death penalty, which they refused.
During his trial, jurors watched his two-hour videotaped confession to FBI agents and heard eyewitness testimony from two survivors of the shooting. One of the survivors, 72-year-old retired nurse Polly Sheppard, said Mr. Roof told her she was being spared so she could recount the story of what he had done.
Prosecutors said during closing arguments that racial hatred drove Mr. Roof to kill innocent churchgoers as retribution for perceived offenses against his white race.
He spent months scouting potential sites for the attack, bought a gun and hundreds of rounds of ammunition and railed against black people and Jews in his journal and online manifesto, according to testimony.
After receiving a warm welcome from parishioners when he arrived at the Bible study, Mr. Roof waited until they had closed their eyes in prayer before opening fire, witnesses testified.
"You can see what kind of hatred he had — a vast hatred that was cold and calculated," Assistant U.S. Attorney Nathan Williams said.
Mr. Roof's defense lawyers, hoping to keep him from the execution chamber, asked jurors to consider what factors had led Mr. Roof to commit the senseless acts and suggested he might be delusional.
Defense attorneys did not call any witnesses after the trial judge blocked them from presenting evidence of Mr. Roof's mental state during the guilt phase of the trial. Mr. Roof plans to represent himself during the penalty phase.
Mr. Roof also is due to stand trial next year on state murder charges.
Malcolm Graham, younger brother of shooting victim Cynthia Hurd, said his family supports a death sentence for Mr. Roof.
"I didn't really need to hear (jurors) pronounce him guilty. I knew he was guilty a year and a half ago," Mr. Graham said in a phone interview.