Mo'ne rocks Richmond, MJBL
Fred Jeter | 6/27/2015, 1:03 a.m. | Updated on 6/27/2015, 1:03 a.m.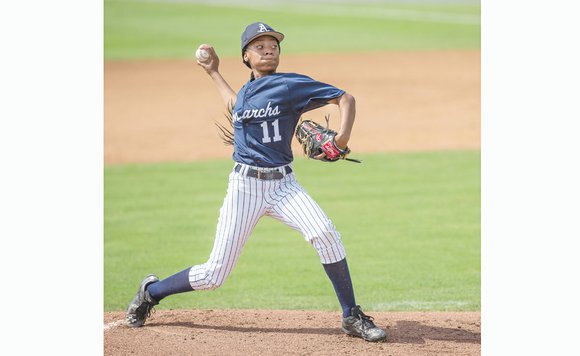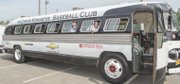 Baseball teen celebrity Mo'ne Davis didn't disappoint with her pitching arm, her bat or glam image when she played last Saturday in Metro Richmond.
About the only area she fell short in was signing autographs — and that wasn't her fault at all.
After Mo'ne and her team, the Philadelphia-based Anderson Monarchs, routed the Metropolitan Junior Baseball League team 19-2 at Glen Allen Stadium at RF&P Park in Henrico, the Monarchs' coach gave a stern "no" to excited autograph seekers.
This was a major downer for a hoard of young fans, many of whom were young African-American girls, who'd waited in the sweltering heat for the rare opportunity to see Mo'ne play.
The group had congregated behind the Monarchs' dugout with hats and notepads for signing.
The explanation from Monarchs Coach Steve Bandura:
"This isn't supposed to be the 'Mo'ne Davis Traveling All-Stars,' but that's what it has become. Our tour is about much more than that. We're here to pay respect to the Civil Rights Movement and Negro Leagues and promote baseball in the inner city."
In fact, in the hurried minutes after the game, Coach Bandura didn't want Mo'ne interviewed unless the entire Monarchs team was involved.
Only grudgingly, he allowed the Richmond Free Press a moment with the 14-year-old sports phenom with the waist-length braids.
Quick Q&A:
RFP: What has been the toughest part of moving from a Little League field (with a 46-foot pitch distance) to a full-size baseball diamond (60 feet, 6 inches)?
Mo'ne: "The bigger field is a challenge. I really haven't (physically) grown much since I was in Little League, so throwing that extra distance is tough."
She noted she is 5-foot-4, the same height she was last summer when she became famous hurling for the Taney Dragons in the Little League World Series in Williamsport, Pa.
RFP: How do you see your future in baseball?
Mo'ne: "I love baseball, but I'll probably concentrate more on basketball. That's my favorite sport."
Let it be said that her answers, albeit restricted, were said with a smile and a friendly twinkle in her hazel eyes.
Reputation: Since taking Williamsport by storm, Mo'ne has appeared on the cover of Sports Illustrated, had her No. 11 jersey placed in the Baseball Hall of Fame, been interviewed on "The Tonight Show" and been named the 2014 Associated Press Female Athlete of the Year.
At RF&P Park: Pitching a scoreless first inning, Mo'ne allowed a single and walk, but fanned three. She later played two innings at third base and another in left field, with no chances.
To start the MJBL at the top of the sixth, she strapped on a catcher's mask to warm up the Monarchs' pitcher.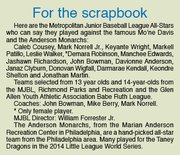 At the plate, batting sixth in Coach Bandura's order, she had three opportunities at bat. During the first inning, she grounded to third, but reached first base on an errant throw and later scored. During the third inning, she hit a double to center field and scored. During the fifth inning, she popped up to first.
Player to watch: Look out for powerful infielder Zion Spearman, who had hits on each of his four times at bat, with three doubles off the fence. Spearman, who slugged several homers in last year's Little League World Series, attends same school as Mo'ne, Springside Chestnut Hill Academy, in suburban Philadelphia.
Crowd: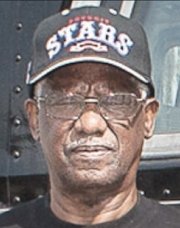 About 300 people were on hand at Glen Allen Stadium, a first-rate facility about 11 miles northwest of Downtown.
The Diamond was unavailable because of a 5:05 p.m. double-header last Saturday for the Flying Squirrels.
Considering the expected crowd and parking issues, there was no other suitable location within the city.
In 2012, with a then unknown Mo'ne on the roster, the Monarchs played a MJBL team at Hotchkiss Field in North Side with little ado.
Among the spectators this year was Henrico resident Edward Hudson, who played catcher for several African-American teams during their barnstorming days following the demise of the Negro Leagues — the Detroit Stars, the Kansas City Monarchs and the New York Giants.
Team effort: Hampton Inn & Suites provided lodging for the Monarchs. The MJBL uniforms were furnished by JDS Construction.
Bus tour: The Monarchs are traveling in a replica of a 1947 Flxible Clipper bus, similar to one used by the Kansas City Monarchs in the 1940s. The vehicle has no air conditioning.
From Richmond, the Anderson Monarchs went to Durham. Other stops — many with Civil Rights Movement significance — include Memphis, Atlanta, Selma, Ala., Birmingham, Little Rock, Ark., and Brooklyn, N.Y.
The 21-day tour includes games in 19 cities.
Looking ahead: Mo'ne plans to play varsity soccer (midfield) and basketball (point guard) as a Springside freshman. Her baseball plans aren't as clear, as most girls shift to softball when aging up to the full-size field.
"The boys, as they mature, usually catch up and pass the girls," said Coach Bandura.
"And they may eventually catch up with Mo'ne."
With a pause, he added: "But they sure haven't yet."
P.S. autographs: Though she was clearly willing, officially Mo'ne signed no post-game autographs — at least none her coach knew about.