Personality: Dr. Phillip B. Duncan
Spotlight on cardiologist, leader of 'Spirit of the Heart'
5/1/2015, 12:05 p.m.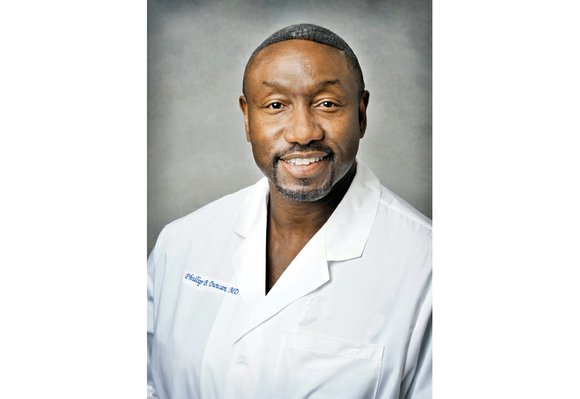 Dr. Phillip Benteley Duncan will go to any lengths — or to be more specific, any heights — to raise awareness about heart failure.
The Chester cardiologist plans to climb the 19,340-foot Uhuru Peak on Mt. Kilimanjaro — the highest point on the African continent — in August.
He's undertaking the heart-pumping ascent in Tanzania with his daughter, Erica, and two other people to raise funds for the Association of Black Cardiologists' (ABC) Heart Failure Awareness Project.
Dr. Duncan plans to begin the climb at Mt. Kilimanjaro on Aug. 23 with guides and other support team members and hopes to complete it by Aug. 29.
Not one to shy away from new challenges, he says this is the first time he'll try to climb a mountain. He has been an avid hiker for many years and also jogs to stay fit.
The biggest challenge in making the climb: Dr. Duncan is recovering from tearing his Achilles' tendon last summer while playing basketball.
"I'm rising to the challenge," he confidently says.
Dr. Duncan, 60, has been a practicing cardiologist for 31 years and has treated patients at his private practice, Heart Care For You, in Chester since 1988.
He is a board member of ABC and previously served as board chair.
He also is helping organize ABC's "Spirit of the Heart" event in Richmond Friday, May 1, through Sunday, May 3. The event is designed to raise awareness about heart disease, which ABC says is the "No. 1 killer in the greater Richmond community."
The event will kick off with an invitation-only leaders forum Friday, continue with a health fair Saturday at the Greater Richmond Convention Center and conclude at First African Baptist Church's 11 a.m. worship service Sunday with a message about heart health and spiritual wellness.
He says he got involved with ABC when his mentor, Dr. Boisey O. Barnes Jr. of Washington, who helped found the organization in 1974, shared "the importance of staying grounded and community focused in addition to being intellectually strong. Dr. Barnes often says, 'Medicine must not only be high tech, but also high touch.' ''
ABC's mission is to "promote the prevention and treatment of cardiovascular disease, including stroke, in blacks and other minorities and to achieve health equity for all through the elimination of disparities," according to its website. According to the organization, African-Americans have a higher mortality rate from cardiovascular disease and are more likely to die of stroke than white people.
ABC's goal is to reduce the cardiovascular disease disparity gap by 20 percent by 2020. Heart failure is defined by the American Heart Association as "a chronic, progressive condition in which the heart muscle is unable to pump enough blood through to meet the body's needs for blood and oxygen. Basically, the heart can't keep up with its workload."
Dr. Duncan says the dangers of heart disease struck close to home last year when his mother, Mabel Duncan, 96, of Henrico County, was diagnosed.
"I'm just trying to tell as many people about it as I can," he declares.