Personality: Dr. Phillip B. Duncan
Spotlight on cardiologist, leader of 'Spirit of the Heart'
5/1/2015, 12:05 p.m.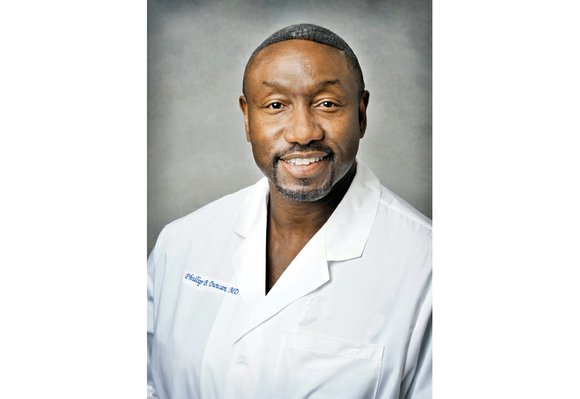 Dr. Phillip Benteley Duncan will go to any lengths — or to be more specific, any heights — to raise awareness about heart failure.
The Chester cardiologist plans to climb the 19,340-foot Uhuru Peak on Mt. Kilimanjaro — the highest point on the African continent — in August.
He's undertaking the heart-pumping ascent in Tanzania with his daughter, Erica, and two other people to raise funds for the Association of Black Cardiologists' (ABC) Heart Failure Awareness Project.
Dr. Duncan plans to begin the climb at Mt. Kilimanjaro on Aug. 23 with guides and other support team members and hopes to complete it by Aug. 29.
Not one to shy away from new challenges, he says this is the first time he'll try to climb a mountain. He has been an avid hiker for many years and also jogs to stay fit.
The biggest challenge in making the climb: Dr. Duncan is recovering from tearing his Achilles' tendon last summer while playing basketball.
"I'm rising to the challenge," he confidently says.
Dr. Duncan, 60, has been a practicing cardiologist for 31 years and has treated patients at his private practice, Heart Care For You, in Chester since 1988.
He is a board member of ABC and previously served as board chair.
He also is helping organize ABC's "Spirit of the Heart" event in Richmond Friday, May 1, through Sunday, May 3. The event is designed to raise awareness about heart disease, which ABC says is the "No. 1 killer in the greater Richmond community."
The event will kick off with an invitation-only leaders forum Friday, continue with a health fair Saturday at the Greater Richmond Convention Center and conclude at First African Baptist Church's 11 a.m. worship service Sunday with a message about heart health and spiritual wellness.
He says he got involved with ABC when his mentor, Dr. Boisey O. Barnes Jr. of Washington, who helped found the organization in 1974, shared "the importance of staying grounded and community focused in addition to being intellectually strong. Dr. Barnes often says, 'Medicine must not only be high tech, but also high touch.' ''
ABC's mission is to "promote the prevention and treatment of cardiovascular disease, including stroke, in blacks and other minorities and to achieve health equity for all through the elimination of disparities," according to its website. According to the organization, African-Americans have a higher mortality rate from cardiovascular disease and are more likely to die of stroke than white people.
ABC's goal is to reduce the cardiovascular disease disparity gap by 20 percent by 2020. Heart failure is defined by the American Heart Association as "a chronic, progressive condition in which the heart muscle is unable to pump enough blood through to meet the body's needs for blood and oxygen. Basically, the heart can't keep up with its workload."
Dr. Duncan says the dangers of heart disease struck close to home last year when his mother, Mabel Duncan, 96, of Henrico County, was diagnosed.
"I'm just trying to tell as many people about it as I can," he declares.
Here's a look at this week's Personality, Dr. Phillip Benteley Duncan:
Date and place of birth: Sept. 22 in New York City.
Alma maters with degrees: Bronx High School of Science; Rensselaer Polytechnic Institute, with a major in biomedical engineering and a minor in technical writing. Early entry into Howard University College of Medicine after two years of college.
Family: Daughters, Erica N. Duncan, J.D., an entrepreneur and business owner, and Arielle N. Duncan, M.D., a physician and aspiring cardiologist.
When I got involved with the Association of Black Cardiologists: 1985.
Why it is an important organization: ABC plays an important role in the professional and scientific development of a many black cardiologists. Some shining examples include Dr. Kim A. Williams, president of the American College of Cardiology; Dr. Clyde W. Yancy, chief of cardiology at Northwestern University; and Dr. Gary H. Gibbons, director of the National Heart Lung and Blood Institute at the National Institutes of Health. ABC has provided a necessary voice in the cardiology establishment on behalf of African-Americans and other underrepresented minorities. Our goal is to improve the health of all Americans, but we realize that disparities exist — from workforce to health outcomes. We work at every level — from communities to government.
Why I first agreed to serve as board chair: The organization has been so influential in my development that I couldn't say no.
My involvement with organization today:I still sit on the board. I also have a particular interest in raising awareness about heart failure. I am working on several projects in that area, including raising awareness about a gene present in as many as one out of every four African-Americans that may cause a particular type of heart failure (diastolic heart failure) or the lack of widespread use of a drug that is particularly effective in improving outcomes for African-Americans with heart failure. Another important initiative is increasing the numbers of African-Americans involved in the clinical trials that bring drugs to the market.
Foremost objective of Spirit of the Heart event: The goal is to encourage a lifestyle that reduces the risk and impact of heart disease. We are paying special attention to heart failure awareness because it is a common heart problem that people know little about.
Who is invited to participate:The entire greater Richmond-Petersburg community is invited to our Saturday event.
How many African-American cardiologists are located in the greater Richmond area: Seven.
Is the number of African-American cardiologists growing in the area or declining, why: Declining. The answer is complex but the short answer is the need to develop and mentor our young people, starting with their primary and secondary education. There also is a need for growth and diversification of our cardiology training programs.
How do heart disease and related deaths impact the African-American community:  Despite tremendous advances, African-Americans' heart disease mortality rates remain higher than those for Caucasians in America. Black people are two times more likely to develop heart failure compared to white people in the United States.
Why I entered medicine: I entered the field on the advice of my high school guidance counselor. I had a part-time job as a histology tech at Montefiore Hospital in the Bronx. I was making $6 an hour. All I wanted was my own apartment and a Cougar XR7. My guidance counselor said, "Since you seem to like medicine, why don't you become a doctor?" I said it takes too long. She said she would see if she could make it shorter for me.
Advice to aspiring doctors: Prepare. You need the energy and desire, but you also must be prepared. You need a thirst for knowledge that includes math and science, but it goes beyond that. Read.
Role of doctors in the community: At Howard University, I was taught the meaning of "Doctor is Teacher." Our main role as doctors is to empower people to enhance their health through knowledge and understanding. In order to do this, it is essential that we thoroughly immerse ourselves in our area of expertise. As cardiologists, we have to know how to treat both the physical and the spiritual heart.
In a perfect world, my job would be: Educating the next generation of cardiologists.
Nobody knows that: I love to sing.
How I unwind: Fishing, reading or hiking.
The best thing my parents ever taught me was: Independence.
Best late-night snack: Milano cookies and milk. Not very healthy, but so good at the end of a busy week.
Person who influenced me the most:My grandmother, who taught me that excellence is an expectation.
The book that influenced me the most: "My American Journey" by Colin Powell. We share similar JAmerican — Jamaican-American — roots. The book highlights how we all benefit when we provide opportunity for all.
The book I'm reading now: "In Pursuit of the Unknown: 17 Equations That Changed the World" by Ian Stewart. I am always amazed at the creativity of mathematicians and clear thinkers. 
If I've learned one thing in life, it is: Peace of mind is worth more than money or fame.