Attention deficit?
Busy school superintendent wants to teach college course
Joey Matthews | 5/22/2015, 9:57 a.m. | Updated on 5/22/2015, 2:40 p.m.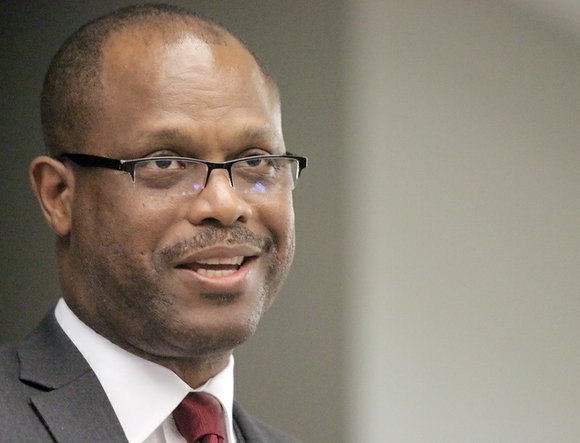 Can Superintendent Dana T. Bedden fully focus on his full-time job — to transform Richmond Public Schools — if he's teaching part time at Virginia State University?
Two members of the Richmond School Board voiced that concern at Monday night's meeting of the board at Martin Luther King Jr. Middle School in the East End.
Tichi Pinkney Eppes, 9th District, and Mamie L. Taylor, 5th District, questioned whether the rigors of teaching even a single college class would deflect Dr. Bedden's attention from the critical needs and issues facing Richmond's city schools and its 24,000 students.
Over their objections, the board voted 6-2 to allow Dr. Bedden to take a job in the fall as an adjunct professor at VSU.
Dr. James Harris, chair of the Department of Educational Leadership at VSU, formally invited Dr. Bedden in a May 4 letter to teach a course in School Law that would meet once a week beginning in the fall.
"He's an expert in school law. We're going after the best people we can get," Dr. Harris told the Free Press at Monday's meeting.
"But he would still have to apply for the position," he added.
Both Dr. Harris and Dr. Bedden said they don't know how much the position would pay.
Dr. Bedden was named Richmond's superintendent in January 2014, with a starting salary of $225,000 annually. He is one of the highest paid public officials in the city.
Under the terms of the agreement, Dr. Bedden would be limited to teaching one course per semester and the course would have to be "after business hours."
The agreement also states Dr. Bedden may teach at VSU "so long as such activities do not interfere with, infringe upon or otherwise compromise his ability to perform his (RPS) duties."
Ms. Pinkney Eppes expressed "trepidation" whether Dr. Bedden could give his undivided attention to guiding the district's 43 schools — 33 of which are not fully accredited — if he takes the position at VSU, located about 20 miles from Richmond in Ettrick.
"Will the superintendent really have the time to be able to do both?" she asked.
Ms. Taylor voiced concern that "our school district as a whole is going through quite a few changes for this upcoming school year."
"We have an academic improvement plan that was put into place," she said. "We have a lot of turmoil — things that we need to address. There are a lot of community needs and district needs.
"I'm just wondering what would be the availability of the superintendent given those specific circumstances?" she asked.
She said the time Dr. Bedden would spend preparing class lectures and reviewing student work at Virginia State would be better spent leading RPS through its myriad of challenges.
"We as a board hired him to move RPS forward, and that's my main focus — that he be able to focus his attentions wholeheartedly to our RPS students because they deserve that," she added.
Dr. Bedden told the board he had taught as an adjunct professor at five other colleges and universities, beginning when he was a high school principal in the 1990s. He said he never had problems performing his full-time educational duties.