VUU golf team plans to come out swinging in 2016 season
5/22/2015, 1:14 p.m. | Updated on 5/22/2015, 2:51 p.m.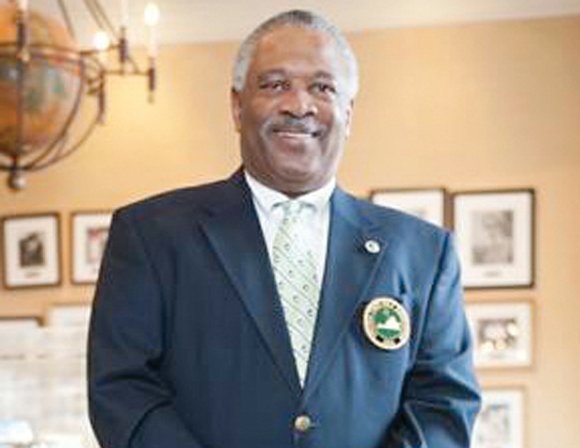 Virginia Union University once dominated CIAA golf.
E. Lee Coble is optimistic the Panthers will roar and soar again on the links.
After arriving on the Lombardy Street campus last year with impeccable credentials, Coach Coble is beginning his second full season as head of VUU golf.
With no time to recruit, his first season went so-so. The Panthers placed sixth out of eight teams in the CIAA.
Much more is hoped for come spring 2016.
Coach Coble, who says he is "65, but a young 65," offers this game plan:
"We'll recruit the best possible golfer regardless of ethnicity, and try to put together a team that will be strong, not only in the CIAA, but in the NCAA Division II."
Already four new freshmen are on board for 2016.
Signing National Letters of Intent are Sergio Escalante from Aventura, Fla.; Landon Isaacs of Gaston, N.C.; Ricardo Andrews of Blue Bell, Pa.; and Paul Meints of La Feria, Texas.
VUU's future foursome has Coach Coble beaming.
"All together, those four have a combined handicap of three," he said.
"These are kids we recruited through my lifetime of contacts, watching video, talking to the athletes and their families, sometimes by Skype. There are a lot of kids out there wanting to play college golf."
The NCAA allows 3.6 scholarships for Division II golf. Coach Coble says he is working with "about three" scholarships that will be divvied up.
Coach Coble noted that, of the quartet, only Andrews is African-American.
"With VUU being historically black, I'd like an all-black team, but that's not going to happen," Coach Coble explained.
Here's a peek into the VUU history book:
According to CIAA records, VUU was conference champion in golf from 1964 to 1971 under the late Coach Tom Harris.
More recently, the league has been dominated by Fayetteville State University, which has won 23 titles since 1976, Virginia State University, which has won five crowns from 2009 to 2014, and this past season by upstart Livingstone College.
Coach Coble succeeds Donald Coleman, the Panthers' coach from 1998 through 2013. He has a glistening résumé regarding golf administration and his 32-year career with IBM.
In 2011, Coach Coble was the first African-American to be named president of the Virginia State Golf Association that serves 80,000 golfers and 310 member clubs within the Commonwealth.
Coach Coble's two-year term ended in 2013.
Prior to that, he served as secretary of the organization in 2006 and vice president from 2010 to 2011.
In 2013, Coach Coble received the Outstanding Leader Award from African-American Golfer's Digest. 
He can swing it, too. As a player, Coach Coble won the 1997 Richmond Golf Association Mid-Amateur Championship.
Born in Mebane, N.C., near Burlington, Coach Coble began cutting his golfing teeth at age 9 at Dogwood Golf Club.
He caddied for pocket money and, on Mondays when the course was closed, he got the chance to swat the dimpled ball himself.
His family moved to suburban New York City, where he attended Mount Vernon High School. He starred in track and field and soccer at Mount Vernon but was denied a chance to play golf.