Post-election download
11/6/2015, 9:03 a.m.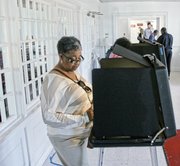 The voters have spoken, and we congratulate the winners of Tuesday's General Assembly elections and local contests in Metro Richmond.
With Democrats losing in several key state Senate races, Republicans will retain control of the upper chamber of the state legislature.
Gov. Terry McAuliffe, a Democrat, will have his work cut out for him during the remaining two years of his term. The Republican-controlled General Assembly has shot down many of his progressive initiatives in the past, including expansion of medical coverage for the most vulnerable and uninsured in the state and common sense gun control efforts.
January ushers in a critical session of the General Assembly because the state's biennial budget will be considered. Where we put our money reflects our priorities. And we urge all lawmakers — Democrats and Republicans alike — to work together for the highest good of the people of Virginia, including the least of those.
Health care, or the lack of it, can devastate families emotionally and financially. Expanding Medicaid to cover thousands of now uninsured Virginians would boost the health and health outcomes for scores of people, bring hundred of millions of federal dollars into the state and ease the burden of compensated care now shouldered by hospitals across the commonwealth. Having the federal-state program cover the uninsured would be a win-win for everyone involved.
We also look to the governor to continue to find avenues by which he can skirt the obstacles to progress and continue to make positive change in Virginia.
Voting, change and school discipline
In this space, we often sound a clarion call about voting and the impact of even a single vote. With that in mind, we call your attention to the Henrico School Board contest in the Fairfield District. In that squeaker of a race, the Rev. Roscoe D. Cooper III won by a mere 48 votes.
We look forward to Rev. Cooper's service on the School Board, particularly the tough questions he can raise and the change his leadership can usher in. And we hope that his opponents, Tara Adams, the Rev. Marcus D. Martin and write-in candidate Pierre Green, will roll up their sleeves and work with him to address the school system's crucial issues, chiefly to equalize funding for services and facilities in Eastern Henrico and to end disparate discipline for students of color and disabled students across the county.
Change starts at the ballot box. But it takes many pulling together in the same direction to make it happen. Our children are too important, and their needs too great, to tank this opportunity because of large egos, petty rivalries or hurt feelings.
The cellphone video of the vile takedown last week of a 16-year-old student at Spring Valley High School in South Carolina by a school resource officer showed the world the uncut, unfiltered cruelty meted out on children of color each day in schools across America.
It also underscored the urgent necessity for school board members and sincere, untiring advocates to map a cohesive strategy in Henrico, Richmond, Chesterfield and across the state to shut down the school-to-prison pipeline.

Virginia has been called out in a recent national investigation by the Center for Public Integrity for having the highest rate of children — children — being treated like criminals and turned over to the police and courts for minor incidents at schools. Henrico County was one of the locales highlighted — or more truthfully, shamed — for handing their students over to police for incidents that traditionally were handled by teachers and principals.
Richmond Police Chief Alfred Durham recently noted that of the 149 students arrested during the 2014-15 school year, 59 were for disorderly conduct, such as not sitting down when told or using profanity toward a teacher.
We are turning our children into criminals. While they need discipline, jailing is not the lesson they need. We are criminalizing them for our own failure as parents, teachers and administrators. And we are causing permanent damage to many youngsters whose lives can be misshapen forever by treatment and punishment totally out of line with the infraction.
We applaud Gov. McAuliffe and his special ops team — state Education Secretary Anne B. Holton and state Public Safety Secretary Brian J. Moran — who are seeking to change this detrimental pattern. The governor's initiatives announced at the state NAACP convention last weekend are a solid first step, particularly better training for school resource officers.
We also strongly support the collaboration between Chief Durham and Richmond Schools Superintendent Dana T. Bedden to tackle the problem in Richmond with a diversion program for students called LIFE. While we'd like to see another acronym used — this one has criminal connotations — we hope School Board members and child advocates alike will monitor the progress.