New play highlights renowned Richmond actor Charles Gilpin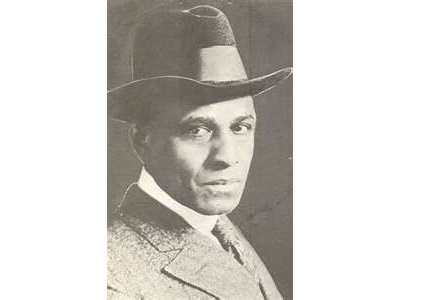 The name of renowned actor Charles S. Gilpin has long faded in Richmond and elsewhere.
Here in his birthplace, the only recognition for the 1920s Broadway star is the public housing community that is named for him — Gilpin Court, located just north of Downtown.
Now Richmond artist, pianist and composer James Pettis is seeking renewed recognition for Mr. Gilpin and his achievement as the first African-American actor to gain national attention on Broadway.

Mr. Pettis is producing, directing and staging a show about the actor titled, "Holding On: The Life & Legacy of Charles Gilpin."
The play will debut 7 p.m. Thursday, Nov. 19, at the 400-seat Henrico Theatre, 305 E. Nine Mile Road in Highland Springs. Tickets are $15.
Mr. Pettis said the production that includes dancing and singing has been gestating for four decades.
Mr. Pettis said he first learned about Mr. Gilpin when he lived in New York and rented a room in the home of Isabel Spiller, whose living room was a salon for many of the writers and artists associated with the Harem Renaissance.
He said he hobnobbed with the likes of James Baldwin and got an earful about Mr. Gilpin, who was best known for his portrayal of Brutus Jones in Eugene O'Neill's celebrated play "Emperor Jones" on Broadway. Mr. Gilpin also played the role in an acclaimed touring show in cities across the country.
In an era of harsh segregation, Mr. Gilpin earned headlines in newspapers across the country, was awarded the NAACP's Spingarn Medal in 1921 and was honored at the White House by then-President Warren G. Harding.
In the show, Mr. Pettis will trace Mr. Gilpin's rise from a performer with minstrel shows — he escaped segregated Richmond by joining a touring troupe at age 18 — and his rise to Broadway.
The production also will recall Mr. Gilpin's celebrated quarrel with Mr. O'Neill over the use of the "n" word in the "Emperor Jones" script. The disagreement ultimately resulted in Mr. O'Neill replacing Mr. Gilpin with Paul Robeson in a London production of "Emperor Jones." Mr. Gilpin later fell into obscurity, poverty and alcoholism that led to his death in 1930 at age 52.
"He was a huge star in his time and his story deserves to be told," said Mr. Pettis, who now devotes much of his time to providing private piano lessons at his studio in Church Hill.
Previously, Mr. Pettis produced a revival in Richmond and other communities of James Weldon Johnson's "God's Trombones."
He said while the premiere will be the only production of the Gilpin play at this time, he hopes a longer run is possible at other Richmond locations, such as the new Black History Museum and Cultural Center of Virginia.