Dance-Morrissey race opens with rift over death penalty
Jeremy M. Lazarus | 9/1/2015, 6:18 p.m. | Updated on 9/1/2015, 6:18 p.m.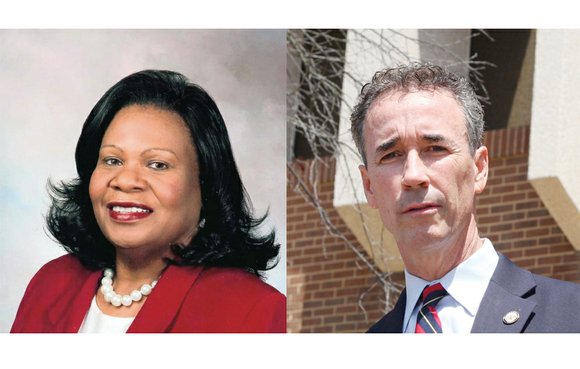 Petersburg Sen. Rosalyn R. Dance is promising to propose a moratorium on executions of death row prisoners if she is re-elected.
The Democrat issued the pledge after her lone challenger, independent candidate Joseph D. "Joe" Morrissey, threw his first public campaign punch in accusing her of supporting expansion of the death penalty.
Mr. Morrissey called it "absolutely inexplicable for an African-American legislator" who represents a majority African-American district to support greater use of the death penalty that has been "conclusively shown to be excessively and disproportionately used against African-Americans."

Sen. Dance, who is seeking her first four-year term representing the 16th Senate District that stretches from the East End of Richmond to Petersburg, quickly jabbed back.
"My opponent has actually sought the death penalty and asked jurors to put people to death," she stated in alluding to Mr. Morrissey's tenure as Richmond commonwealth's attorney in the early 1990s. "He, himself, has said he believes there are times when the death penalty is appropriate. For him to imply that he is somehow 'pure' on this issue is totally disingenuous and outrageous."
"At the same time," she stated, "I do recognize that legitimate issues exist with capital punishment. In January, I intend to propose a moratorium on executions. This moratorium would remain in place pending completion of a thorough review of when, why and against whom the death penalty is applied in Virginia."
Such moratoriums have been proposed before, but the pro-death penalty Republican majority in the House has always killed such proposals.
The give-and-take between Sen. Dance and Mr. Morrissey reflects an early opening to the campaign season that usually heats up after Labor Day on the way to Election Day in November. Most of the contests this fall involve elections for the 100 seats in the House of Delegates and the 40 seats in the state Senate.
Now a Richmond resident, Mr. Morrissey opened the attack last week by pointing to Sen. Dance's record of voting for bills that would make it "easier to put people to death in Virginia."
Using legislative records, he cited Sen. Dance's votes in 2010 for two separate Republican-authored bills to expand the death penalty, including one that would have eliminated the Triggerman Rule. That rule limits the death penalty to a person who fires the fatal shot, rather than everyone involved with a killing. Sen. Dance was then a member of the House of Delegates when she cast the votes.
Mr. Morrissey, also a delegate at the time, voted against both bills in large part because of the number of people found to be wrongly sentenced to death.
Quoting congressional statistics, Mr. Morrissey noted that since 1976, 1,413 people have been executed in the United States, while more than 150 people — or nearly 11 percent — have been freed from death row as the result of conclusive evidence being discovered of their innocence.
Sen. Dance stated that the legislation she supported "concerned the murder of law enforcement officials, instances of murder for hire, acts of terrorism and other exceptionally violent crimes. I have always worked to keep Virginians safe, and I supported these measures from a desire to stop depraved individuals from committing heinous acts.
"My opponent demagogues this issue and seeks to mislead voters about his own record," she stated. Meanwhile, "I have always sought to keep families safe, and I have worked to ensure both fair and equal justice for all Virginians."