Personality: Lindsey N. Shavers
Spotlight on Jack and Jill Mid-Atlantic Teen President
9/17/2015, 10:07 p.m. | Updated on 9/17/2015, 10:09 p.m.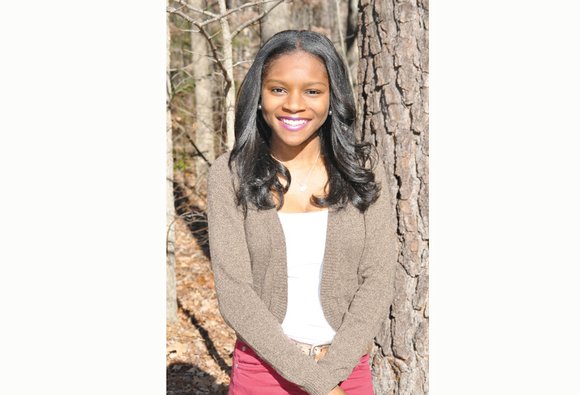 It's hard to believe Lindsey N. Shavers finds enough hours in the day to fulfill all her leadership responsibilities. The senior in Henrico High School's International Baccalaureate program was a human dynamo this summer, wearing many leadership hats.

"I was busy," she understates.
Lindsey completed her summer itinerary earlier this week, representing the Mid-Atlantic Region of Jack and Jill of America Inc. in her capacity as Mid-Atlantic Teen Regional President, attending the On the Hill Legislative Summit and National Teen Board Retreat in Washington.
In addition, Lindsey participated in a weeklong residential seminar at the U.S. Naval Academy this summer, interned at the Downtown YMCA, attended a weeklong Student Leaders Summit in Washington as part of the Bank of America Charitable Foundation's Student Leaders Program and offered a six-week Explore RVA photography camp to 10 girls at the Peter Paul Development Center. 
In her role as regional president for Jack and Jill, Lindsey presides over all Mid-Atlantic Region teen meetings in the organization that was founded in 1938 in Philadelphia by 20 mothers who wanted to provide social, cultural and educational opportunities for African-American children ages 2 to 19. She has been a member of Jack and Jill since she was 3. 
She also says she serves on Jack and Jill's seven-member National Teen Board and is the only teen serving on the Jack and Jill Foundation Board. She is an ex officio member. 
Lindsey also works with the Mothers' Mid-Atlantic Regional officers and host chapters in planning the 2015 Mid-Atlantic Region Fall Workday in Portsmouth and the 63rd Annual Mid-Atlantic Region Teen Conference scheduled for June 23-26, 2016, in Portsmouth.
She previously served as teen president of the Richmond Chapter of Jack and Jill last year when the teen group won first place for chapter programming in the region. Their projects included "From Farmville to Ferguson," a Dr. Martin Luther King Jr. Day program.  
Let's meet this week's Personality, Lindsey N. Shavers:
Date and place of birth: Dec. 28 in Richmond.
Current home: Henrico County.
Extracurricular activities: Girl Scouts, Henrico High School student government, varsity track, piano and National, Math, English and French honor societies.   




Community involvement:
Blue Sky Fund Volunteer and co-creator of RVA Outdoor Teen Leadership Challenge, an "Amazing Race"-type event that I hosted with my Blue Sky Fund Outdoor Leadership Institute crew. We were awarded a Community Foundation Youth Philanthropy Project grant to fund the event.    
2. Peter Paul Development Center volunteer and creator of the RVA Explorer Club. I was awarded a Community Foundation Youth Philanthropy Project grant to purchase high-quality camera equipment and establish a photography instruction program for Peter Paul kids.
Family: Parents, Gina Burgin and Victor Shavers; sister, Sydney; and brother, Max.
Number of Jack and Jill chapters in the Richmond area: Three —  Richmond, Midlothian and James River chapters.
Number of chapters in the Mid-Atlantic region: 29 chapters across Virginia, North Carolina and South Carolina.
Number of chapters in the U.S.: Jack and Jill boasts more than 230 chapters nationwide, representing more than 40,000 family members throughout seven regions. 
Jack and Jill is important because: Our organization advocates on behalf of all kids, not just those whose mothers are members. It also gives young people like me an opportunity to experience the benefits of leadership, volunteer service, philanthropic giving, civic engagement and networking. The opportunities I have this year to help shape programming, platforms and policies that affect teens across the nation are incredible.