Maxine L. Black, longtime school counselor and civic leader, succumbs at 77
5/11/2018, 8:33 p.m.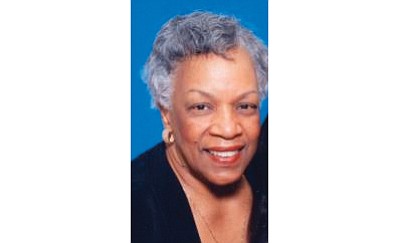 Maxine Lewis Black wore multiple hats as an educator and in leadership roles with women's organizations.
Mrs. Black was a foreign language teacher and late served as a guidance counselor with Richmond Public Schools in a career that spanned nearly 50 years.
She also served as the Mid-Atlantic regional director of Alpha Kappa Alpha Sorority, as president for two terms of the Richmond Chapter of The Links Inc. and as president of the Richmond North Chapter No. 5356 of the American Association of Retired Persons.
Her contributions in the classroom and the community are being remembered following her death Wednesday, April 25, 2018. She was 77.
Family and friends celebrated her life Tuesday, May 1, at Ebenezer Baptist Church in Jackson Ward, where she had been an active member. She was entombed in the mausoleum at Forest Lawn Cemetery.
The Links held a memorial service on Monday, April 30, at Scott's Chapel, followed by the AKA's Ivy Beyond the Wall ceremony.
A Hanover County native, Mrs. Black began teaching in 1962 after graduating with honors from Virginia Union University with a dual major in French and education. She also was crowned Miss Virginia Union University and was inducted into a national academic honors society.
Mrs. Black later earned a master's in counseling from Virginia Commonwealth University and then worked with students as a guidance counselor at Bellevue Elementary and John Marshall High School before retiring in 2000.
While a student at VUU, Mrs. Black joined the AKA Sorority, and in 1975, served as president of the Richmond alumnae chapter, Upsilon Omega Chapter. From 1990 to 1994, she served as the 12th director of AKA's Mid-Atlantic Region, which now includes nearly 120 college and alumnae chapters.
Along with her roles in The Links, a women's service organization, and the AARP chapter, she also belonged to the Richmond Chapter of Jack & Jill of America Inc. and was named Distinguished Jill of the Year in 1987 for her contributions to that group.
At Ebenezer Baptist Church, Mrs. Black chaired the 150th anniversary committee, twice served as moderator and was a member of the board of administration, the finance ministry, the music council and the pastoral search committee.
She was the widow of Frederick W. Black Jr., who died in 2006.
Survivors include her daughter, Melba L. Black, and a sister, Marion L. Moye, both of Washington.