Tribute unveiled to women's advocate, international AKA president
12/22/2017, 3:46 p.m.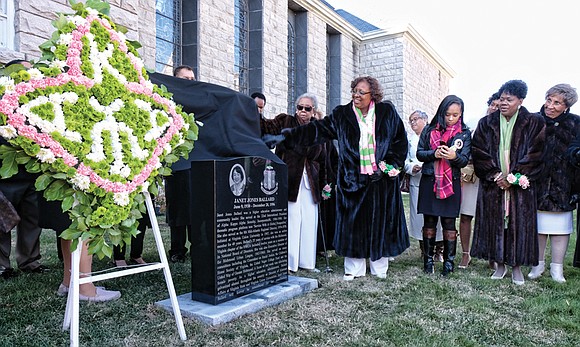 By Leah Hobbs
While the nation debates the preservation or removal of Confederate monuments, the women of Alpha Kappa Alpha Sorority are erecting monuments to honor the selfless contributions of their sisters.
The late Janet Jones Ballard of Richmond, the 22nd international president of the 109-year-old organization, was honored with a historical marker unveiled during a ceremony last Saturday on the campus of Virginia Union University.
"Today's ceremony is a deserving honor for a woman that exemplifies what Alpha Kappa Alpha embodies," said Dr. Marye J. Jeffries, a former Mid-Atlantic regional director of the sorority.
Dr. Jeffries read a poem written by one of the sorority members:
"And God said I'll make me a woman — a woman of substance, a woman of pride, a woman who is able to put petty things aside./A woman of integrity, a woman of love, a woman who is worthy of the treasures above./A woman who is genuine; a leader in every way. God said I'll make me a woman. I'll call her AKA," she read.
"Yes, Janet Jones Ballard … well deserves this historical marker that recognizes the service, accomplishments and achievements she rendered to all mankind," Dr. Jeffries said.
As a child growing up in New York and later Charles City County, Mrs. Ballard was told by family members that she was just as good as anyone else, according to her cousin, Monica James. That gave her the drive to strive for greatness and to fight for equality, she said.
She graduated from Armstrong High School in Richmond, and earned an undergraduate degree from VUU, where she was initiated into the sorority's Alpha Eta Chapter in 1947.
After working as a teacher and child welfare case worker in New York City, she returned to Richmond and served as executive director of the Richmond Urban League in the early 1960s. She later served as director of alumni affairs at her alma mater and at Virginia State University.

She devoted her time and talents to the advocacy and advancement of women through her work with nonprofit organizations, including the Girl Scouts, the United Negro College Fund and the YWCA, where she was a national leader of trainers in 17 states. Her love was the AKA Sorority.
"Janet had black girl magic before it became a thing," Mrs. James said. "She motivated us with her commitment to serving others. We were graced with her teachings and demonstrations of leadership, as well as her devotion to education. She expected nothing less than our best, whatever our hearts desired. She was our inspiration to do the work. As a family, we are truly proud, honored and fortunate."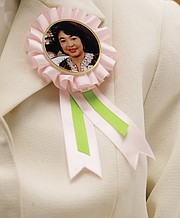 Serving as the AKA international president from 1986 to 1990, Mrs. Ballard moved the sorority's programs into the international arena with her program theme, "Service with a Global Perspective: Reaching Out to Touch Mankind."
She expanded the sorority's African Village Development Project, sensitizing members to the problems of hunger, the plight of refugees, the impact of natural disasters and other social and political conditions that exist on the African continent. The initiative resulted in the adoption of 250 villages by AKA chapters and the contribution of more than $100,000 to the project.
Mrs. Ballard also emphasized Alpha Kappa Alpha's commitment to the African-American community, spearheading a $4 million campaign to support historically black colleges and universities. Her proposal to eliminate hazing in AKA began a national discussion, leading to the replacement of pledging with the membership intake process.
In a letter read at the ceremony, Gov. Terry McAuliffe praised Mrs. Ballard's contributions to the people of Virginia.
Richmond City Council President Chris Hilbert announced that Mayor Levar M. Stoney and the City of Richmond will proclaim Mrs. Ballard's birthday, June 9, as Janet Jones Ballard Day.
Mrs. Ballard died Dec. 28, 1996, at age 66.
Dr. Patricia A. Gould-Champ, founder and pastor of Faith Community Baptist Church in Richmond and a faculty member at VUU's Samuel DeWitt Proctor School of Theology, added a special blessing once the marker was unveiled outside of Coburn Hall.
"May (the marker) inspire all of the faculty and students and those who visit these hallowed grounds," she said. "May it serve to encourage all of us to live our best lives, to give our greatest gifts and to follow the legacy of Janet Jones Ballard in providing service to all mankind."