New AKA chapter to be chartered for Henrico, New Kent and Charles City
4/22/2017, 9:02 p.m.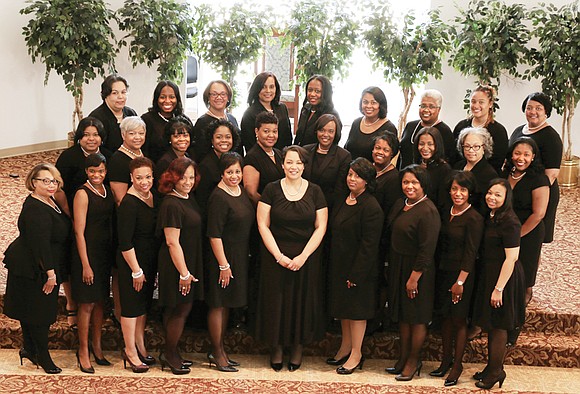 By Holly Rodriguez
In January 1993, Chicago Bulls legend Michael Jordan scored the 20,000th point of his career with the National Basketball Association, Dr. Martin Luther King Jr. Day was observed in all 50 states for the first time and the Tau Phi Omega Chapter of Alpha Kappa Alpha Sorority Inc. was chartered in Ettrick.
It was the sorority's last graduate chapter in the area to be chartered — until now.
The Cultured Pearls of the James Interest Group of AKA will celebrate their new charter with a luncheon 2 p.m. Saturday, April 22, in the Claude G. Perkins Living and Learning Center on the Virginia Union University campus.
The luncheon, which is open to the public, will follow a private chartering ceremony in Coburn Chapel on the campus.
The new graduate chapter will serve Eastern Henrico, New Kent and Charles City counties. Charles City County is the hometown and burial place of the AKA's 22nd international president, the late Janet Jones Ballard.
The group currently has 30 members, and will be given its Greek name during the private ceremony. The AKAs, founded in 1908 on the Howard University campus, have 290,000 members around the world.
Joyce Henderson, the sorority's Mid-Atlantic regional director, will attend the chartering ceremony. The keynote speaker will be Joann Gabbin, an AKA and professor of English at James Madison University.
In addition to the Ettrick chapter and new interest group, the AKAs have four other graduate chapters in Greater Richmond. The oldest, established 96 years ago, is the Delta Omega Chapter in Petersburg. The others are Upsilon Omega and Rho Eta Omega in Richmond and Pi Rho Omega in Chesterfield.
The AKA's area undergraduate chapters are older, with VUU's chartered in 1928 and Virginia State Uniiversity's chartered in 1926, according to sorority officials.
Discussions about a new chapter began a year and a half ago, when several AKAs not affiliated with a chapter and inactive members who live, work and worship in the three counties saw an unmet need for individuals, families and groups in the area.
"We came together and talked about how we have these chapters that are in Richmond or Petersburg, but in between, there's an opportunity for us to contribute," said Lisa Winn Bryan, interest group president.
As part of the application process to become an official chapter, the group acquired letters of support from several people, including pastors, Congressman A. Donald McEachin and Gov. Terry McAuliffe, Ms. Bryan said.
Each member of the group has led a service project, she said. Among their efforts have been church health fairs, a Relay for Life event to benefit the American Cancer Society, providing bikes to children in need at Christmas, clothing drives for everyday and professional clothes, food drives for the Central Virginia Food Bank and becoming designated to keep a portion of a Charles City County road clean.

Tickets for the luncheon are $65 and must be purchased by Friday, April 14.
For information and tickets, go to www.eventbrite.com or contact Ms. Bryan at (804) 304-8446 or cpofthej@gmail.com.