Area AKAs celebrate VP Harris' inauguration
1/21/2021, 6 p.m. | Updated on 1/29/2021, 3:35 p.m.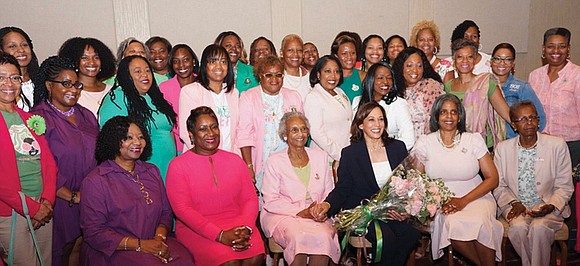 Members of six area Alpha Kappa Alpha Sorority chapters put on their pearls and Chuck Taylor sneakers Wednesday evening and celebrated the inauguration of their sorority sister, Vice President Kamala Harris, with a Zoom event on Wednesday, Jan. 20, from 6:08 to 7:08 p.m., homage to the sorority's founding in 1908 at Howard University.
The newly inaugurated vice president is a Howard University alumna.
The event was organized by the AKA's Metro RVA Connection Committee Collective in collaboration with the Membership and Sisterly Relations committees, and included sorority members from Upsilon Omega, Delta Omega, Tau Phi Omega, Rho Eta Omega, Omega Rho Omega and the Pi Rho Omega chapters from Richmond, Henrico, Chesterfield, Petersburg, Ettrick and New Kent and Charles City.
The members, dressed in Vice President Harris' favorite footwear—Chuck Taylor sneakers – and wearing the sorority's signature strand of white pearls, celebrated the historic American moment with music and games, special cocktail demonstrations and commemorative favors.
According to Tonia Sharpe, one of the organizers, the Zoom call started with Mary J. Blige's song "Work That," which was Vice President Harris' victory speech walkout song on Nov. 7, after she and her presidential running mate, Democrat Joe Biden, were declared the winners.
"We sent out party favors and AKA trivia and a Kamala Harris backdrop for the Zoom call, as well as a list of specialty cocktails to all of the registered members," Ms. Sharpe told the Free Press.
After the event, sorority members will be able to purchase commemorative T-shirts.
"I'm over the moon to have a first African-American woman vice president," said Ms. Sharpe, a former educator and counselor for underprivileged children of color. "This shows our students what they can be.
"As our Black and brown girls look into the mirror, they will say, 'She looks like me.' They will have something to aspire to and strive for as they study and make the grades as they do well in school."