Blake vows to use police takedown as 'catalyst for change'
Free Press wire reports | 9/18/2015, 7:17 a.m. | Updated on 9/18/2015, 7:17 a.m.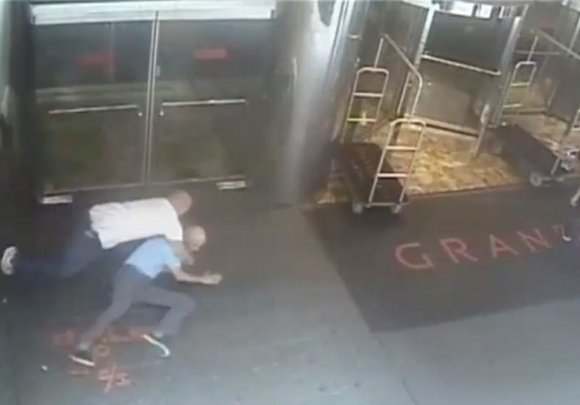 NEW YORK CITY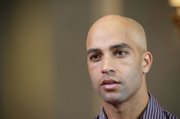 The New York City Police Department on Friday released a security camera video showing former tennis star James Blake being tackled, thrown to the ground and handcuffed by an undercover officer in a case of mistaken identity.
The incident occurred as Mr. Blake, formerly the world's fourth-ranked player, was calmly standing by the entrance of a midtown Manhattan hotel, waiting for a car to take him to the U.S. Open.
Mr. Blake, 35, standing alone by the entrance of the Grand Hyatt hotel on 42nd Street on Sept. 9, was rushed by the officer, who gave no warning or identification.
Mr. Blake is African-American while the officer, James Frascatore, is white. The incident revived questions over excessive police force that have reverberated around the country after a series of police killings of unarmed African-American men.
Officer Frascatore has a history of excessive force complaints, including at least three filed against him with the Civilian Complaint Review Board in 2013. They reveal a pattern, with residents claiming they were detained without explanation and mistreated despite complying.
After the incident involving Mr. Blake, several lawyers and New York residents criticized the police department for not punishing Officer Frascatore before he was involved in another rough arrest.
After giving no resistance, Mr. Blake was handcuffed and led out of the view of the camera. The video was released by the NYPD's Internal Affairs Bureau, which said in a brief statement that they had interviewed Mr. Blake and given his lawyers a copy.
"The investigation is still ongoing," NYPD Deputy Commissioner Stephen Davis said in a statement accompanying the video.
Police have said Mr. Blake had been mistakenly identified by "a cooperating witness" as being involved in a ring dealing in fraudulently purchased cellphones. They added that allegations of excessive force would be investigated by internal affairs.
The video, which is one minute in length, shows passers-by on the street glancing over at the incident as it unfolded but not stopping.
Mr. Blake, in a statement released through his lawyer Kevin Marino, said he believes the vast majority of police officers are dedicated public servants who operate appropriately, but what happened to him "is not uncommon."
He called for the officer's firing, saying he is the kind of officer who "tarnishes the badge."
NYPD Police Commissioner Bill Bratton and Mayor Bill de Blasio have publicly apologized to Mr. Blake. Officer Frascatore was placed on modified assignment. Commissioner Bratton has questioned the tactics Officer Frascatore used.
"But extending courtesy to a public figure mistreated by the police is not enough. As I told the Commissioner, I am determined to use my voice to turn this unfortunate incident into a catalyst for change in the relationship between the police and the public they serve," Mr. Blake said.
He called upon the city "to make a significant financial commitment" toward improving that relationship.
In a joint statement issued late Friday, Mayor de Blasio and Commissioner Bratton defended their approach to improving relations between the police and the community, citing nearly $29 million spent on police retraining programs.
"And we are beginning to see results, with complaints to the CCRB (Civilian Complaint Review Board) down to the lowest levels in 14 years," the statement said, adding: "And we both stand ready to meet with Mr. Blake to further discuss these issues and initiatives."
At issue is not only Mr. Blake's takedown but also whether the use of force wasn't properly reported up the chain of command — leaving police brass to learn of it only after Mr. Blake spoke to the media. Commissioner Bratton said he was concerned that no report had been made of Mr. Blake's arrest and detention, a violation of department policy.
Mr. Blake was released within roughly 15 minutes, but suffered a cut to his left elbow and bruises to his left leg. He was on his way to make a scheduled corporate appearance at the U.S. Open tennis tournament.