Actress Viola Davis makes Emmy history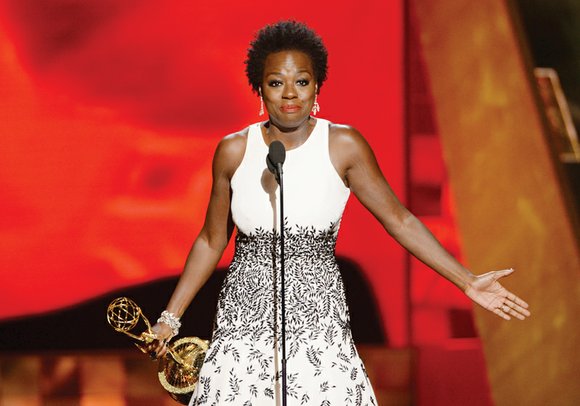 LOS ANGELES
Finally!
After 67 years, an African-American woman has won the honor for best lead actress in a drama series at the Emmy Awards.
Viola Davis notched the historic win Sunday night before a mostly white audience at the 67th Primetime Emmy Awards.
She won for her role as a tough criminal defense lawyer in ABC's drama series "How to Get Away with Murder."
"The only thing that separates women of color from anyone else is opportunity," Ms. Davis said in an acceptance speech that garnered kudos and tears from listeners. She also thanked influential African-American women across Hollywood, including writer and executive producer Shonda Rhimes and fellow actresses Kerry Washington, Taraji P. Henson and Gabrielle Union.
Ms. Washington cried as she watched Ms. Davis on the stage. Other celebrities celebrated from afar.
Oprah Winfrey tweeted, "Wow, WOW! Another proud to spell my name W.O.M.A.N. moment. Thank you."
Ms. Davis quoted Harriet Tubman in her speech and urged Hollywood to write more parts for African-American women.
"You cannot win an Emmy for roles that are simply not there," she said. "Here's to all the writers, the awesome people that are Ben Sherwood, Paul Lee, Peter Nowalk, Shonda Rhimes — people who have redefined what it means to be beautiful, to be sexy, to be a leading woman, to be black."
Two other female African-American actresses, Uzo Aduba and Regina King, also were among the winners.
Ms. Aduba won the Emmy for best supporting actress in a drama series for her performance as Susan "Crazy Eyes" Warren on "Orange is the New Black," a Netflix production about a women's prison.
Ms. King earned a statuette for best supporting actress in a limited series or a movie for her role in "American Crime."
Ms. Aduba thanked the show's creator Jenji Kohan during her acceptance speech.
"I love you so much," she said, fighting back tears. "I appreciate you for putting belief back in my heart."
A stunned Ms. King said, "I was not expecting this, so I'm just going to listen to God and give gratitude for all the love that surrounds me."
She thanked her mother and grandmother, who have "taught me the power and blessing of being a woman."
Another African-American actor, Reg E. Cathey, was honored Sept. 12 at the creative arts Emmy Awards as best guest actor in a drama for the Netflix show "House of Cards."
HBO won the most awards Sunday with 14. Its hugely popular show, "Game of Thrones," won 12 awards, including best drama. Its show "Veep," won best comedy and miniseries, "Olive Kitteridge," best limited series.
The evening's most emotional moment came when comedian Tracy Morgan, in his first live public appearance since suffering life-threatening injuries in a car wreck more than a year ago, received a standing ovation and cracked a joke.
Mr. Morgan, 46, one of the stars of "30 Rock" and a former cast member of "Saturday Night Live," walked confidently on stage as he presented the night's top award for best drama series.
"Last year Jimmy Kimmel said on this stage, 'We'll see you next year, Tracy Morgan.' Well Jimmy, thanks to my amazing doctors, beautiful family and wife, I'm here, standing on my own two feet," Mr. Morgan said.
"It's been a long road back, I suffered a traumatic brain injury that put me in a coma for eight days and when I finally regained consciousness, I was ecstatic to learn I wasn't the one who messed up," he said, drawing laughter from the audience.