Frustration growing
City Council offers amendments to add millions of dollars to RPS while School Board approves cost-cutting measures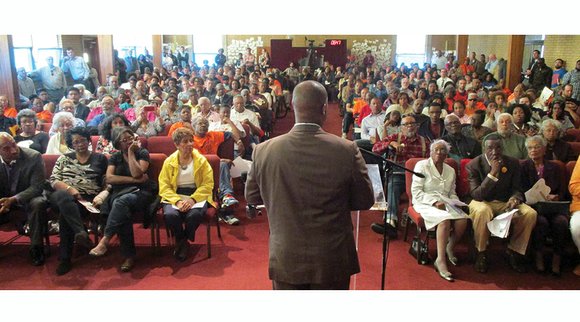 However, no council members have said yet where the money would come from.
At one point during the discussion, Councilman Parker Agelasto, 5th District, suggested the possibility of applying a service charge on real estate owned by nonprofit organizations and city-connected agencies such as the Richmond Redevelopment Housing Authority to increase revenues.
"I'm open to looking for what actually is needed to provide for every child's education, welfare and well-being," said Cynthia I. Newbille, 7th District, who was one of the six council members to propose the amendment to provide $4.97 million in additional funding. "This is important to us all."
The $4.9 million would provide an average salary increase of 4 percent each year over the next two fiscal years for the school system's 2,300 instructional staff members, Ralph Westbay, the district's assistant superintendent for financial services, told the Free Press.
However, after council members listened to public safety officials, school leaders and others express concerns about the impacts that any budget alterations would have on their ability to deliver services, they adjourned the meeting after two and a half hours without voting on the amendment to raise teacher pay or any other amendments.
"We're right back where we started," Council President Michelle R. Mosby said, before closing the meeting.
They agreed to meet again at noon Monday, April 25, to consider budget amendments.
The flurry of budgetary maneuverings by City Council and the School Board came after Mayor Jones reiterated his intent last Friday at a City Hall news conference not to seek any additional funds for RPS in the $709 million spending plan he presented to council last month.
"There's no mention of where the money would come from. And that is a problem," the mayor said, as city Budget Director Jay Brown, Deputy Chief Administrative Officer Lenora Reid, Chief Administrative Officer Selena Cuffee-Glenn, Police Chief Alfred Durham and Fire and Emergency Services Chief Robert Creecy stood behind him.
"We all want schools to have more money. No doubt about that. We just need to be clear about the impact where the money is shifted from," Mayor Jones said.
Mayor Jones also criticized council members for not providing their proposed amendments to his administration earlier.
City Council is required to approve a new schools budget by May 15, but could do so earlier.
By Joey Matthews
Dorothea Hobson Winfree and Daionese Johnson Bradley attentively sat in the front pew at Mt. Olivet Church in the East End at last week's community rally to help save their alma mater, Armstrong High School, and other city schools from closing.
The longtime friends attended Armstrong for three years before moving in 1942 to Maggie L. Walker High School, where they were part of the new high school's first graduating class.
They joined a standing-room-only audience of about 500 people Thursday, April 14, to speak out against the plan that school leaders introduced two weeks ago to close Armstrong and four elementary schools and to consolidate three alternative schools.
The plan is to help trim an $18 million budget gap if Richmond City Council does not provide substantial additional funding in its overall budget for the district for fiscal year 2017.