Personality: Brittney Maddox
Spotlight on president of Good Clear Sound
4/22/2016, 5:59 a.m.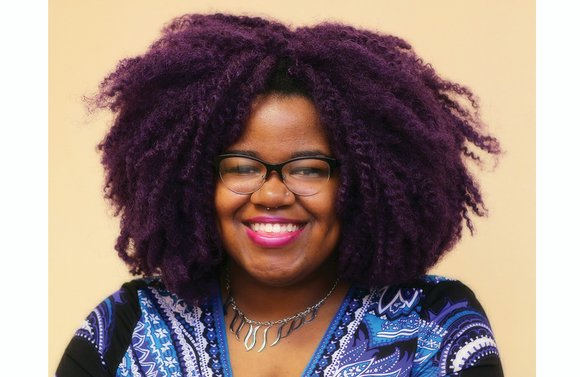 Brittney Maddox seeks to make a positive difference in the community in her role as the president of "Good Clear Sound," a slam poetry collective at Virginia Commonwealth University.
"Our mission is to bring poetry to the VCU and Richmond community by hosting a series of open mics and workshops and performing at other colleges," she says.
"We will quench the parched streets and theaters of VCU with life-giving slam poetry," the group states on its Facebook page. "We will speak out and speak up to uplift and nourish our community through creativity."
Ms. Maddox describes slam poetry as a competition where "regular poets add theatrics to their poems" as they read or recite them.
Participants are judged on performance, volume, poem content and cadence by selected members of the audience who rate their efforts.
Serving as president of the slam poetry student organization at VCU is a labor of love for Ms. Maddox.
"It is one of the only places I can be my most authentic self," she says. "It's definitely planted some seeds in me.
"In Good Clear Sound, we try to plant seeds in people, seeds being positive things like encouragement, love and acceptance," she explains. "It's beautiful watching it bloom and blossom."
Students try out for the team through a series of fall qualifying slams, Ms. Maddox said. The top eight finishers qualify for the "Grand Ram Slam," which is held at the end of the fall semester.
The five finalists then earn berths on the Good Clear Sound team that is coached by Rob Gibsun, a VCU graduate and former slam poetry team member. Ms. Maddox serves as the team's assistant coach.
The team has competed at the College Unions Poetry Slam Invitational (CUPSI). This year, VCU finished ninth out of 68 teams, including teams from Scotland and Canada. The competition was held April 6 through 9 at the University of Texas in Austin.
This is the fourth time in as many years that the VCU team has finished in the Top 10 of the CUPSI.
Here's this week's creative Personality, Brittney Maddox:
Family: Mom, Kimberly Macklin, and grandmother, Janice Macklin. There are other people who aided with where I am right now, too many people who have come into my life who are not related to me by blood who I consider my family.
Other extracurricular activities: VCU ASPiRE, a two-year volunteer organization that I joined in August 2014; student organizer with Performing Statistics; and chief executive editor at Amendment Literary Journal.
Leadership roles in other school activities: I am a student program assistant in the Office of Multicultural Student Affairs. I work on a team of students alongside OMSA administrators to create cultural programming for VCU.
Good Clear Sound was founded in: 2010. It was formerly named Slam Nahuatl.
Why the name change: We felt that it was appropriative, as the current members were not of the Aztec Heritage. Nahuatl is the name of language spoken by the Aztec people, which loosely translates to Good Clear Sound.
When and how I got involved with Good Clear Sound: In the fall of 2013, I attended an open mic and my friend suggested I try out for the team. I didn't make it, but I enjoyed the company and stayed around. I consider it a family.
Members of this year's team: Marvin Hodges and Emiley Allison, and newcomers Amanda Pressman, Brandon Duong and Maiya Pittman.
Poetry is: A form of literature that uses literary devices. There are various formulas to create certain types of poetry. The most common poetry written now is free verse.
Slam is: Not a genre. It's a competition that was formed by poet Marc Smith in Chicago in the late 1980s.

Difference between spoken word and poetry: Spoken word is just poetry spoken as performance. There's not really a difference, just the presentation.
If I could have my wish, it would be: People would feel more comfortable expressing themselves as they are.
Favorite poet: I don't really have a favorite, but I'll say Maya Angelou.
Reason: She has been a constant in my life.
Favorite poem: Maya Angelou's "I Know Why the Caged Bird Sings."
Reason: The message of freedom and resilience.
Career goal: Writer. Poet. Playwright. Educator. Activist. Little things I am preparing myself to do as of now.
Ultimate ambition: Create onscreen narratives about women like me. I am taking a growing issue with the film industry. I major in gender, sexuality and women's studies at VCU, which has caused me to analyze the media. I am interested in more realistic onscreen narratives that are intersectional.
The best thing my parents ever taught me was: Find people who believe in your dream and invest in theirs.
Three words that best describe me: Loving, intelligent and ambitious.
Quality I admire in another person: People who are resilient and people who make the best out of everything.
The person who influenced me the most: My Grandma, Janis Macklin. She instilled so much wisdom in me growing up. I see so much of her influence in my life.
Nobody knows that I: Am really private. I keep a lot to myself.
My next goal: To write a play.