Personality: Brittney Maddox
Spotlight on president of Good Clear Sound
4/22/2016, 5:59 a.m.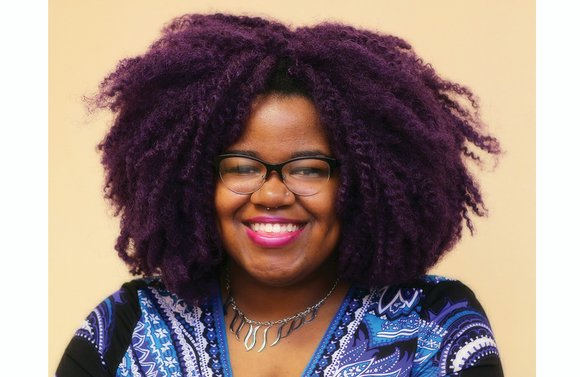 When and how I got involved with Good Clear Sound: In the fall of 2013, I attended an open mic and my friend suggested I try out for the team. I didn't make it, but I enjoyed the company and stayed around. I consider it a family.
Members of this year's team: Marvin Hodges and Emiley Allison, and newcomers Amanda Pressman, Brandon Duong and Maiya Pittman.
Poetry is: A form of literature that uses literary devices. There are various formulas to create certain types of poetry. The most common poetry written now is free verse.
Slam is: Not a genre. It's a competition that was formed by poet Marc Smith in Chicago in the late 1980s.

Difference between spoken word and poetry: Spoken word is just poetry spoken as performance. There's not really a difference, just the presentation.
If I could have my wish, it would be: People would feel more comfortable expressing themselves as they are.
Favorite poet: I don't really have a favorite, but I'll say Maya Angelou.
Reason: She has been a constant in my life.
Favorite poem: Maya Angelou's "I Know Why the Caged Bird Sings."
Reason: The message of freedom and resilience.
Career goal: Writer. Poet. Playwright. Educator. Activist. Little things I am preparing myself to do as of now.
Ultimate ambition: Create onscreen narratives about women like me. I am taking a growing issue with the film industry. I major in gender, sexuality and women's studies at VCU, which has caused me to analyze the media. I am interested in more realistic onscreen narratives that are intersectional.
The best thing my parents ever taught me was: Find people who believe in your dream and invest in theirs.
Three words that best describe me: Loving, intelligent and ambitious.
Quality I admire in another person: People who are resilient and people who make the best out of everything.
The person who influenced me the most: My Grandma, Janis Macklin. She instilled so much wisdom in me growing up. I see so much of her influence in my life.
Nobody knows that I: Am really private. I keep a lot to myself.
My next goal: To write a play.