Gabby poised for gold at 2016 Summer Olympics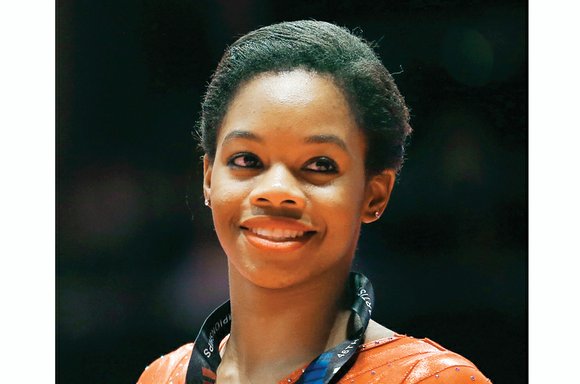 Gabby Douglas is seeking to become the first gymnast since Romanian Nadia Comaneci to win gold medals at back-to-back Olympics.
Now 20, Douglas was the toast of the country when she won the all-around title at the 2012 Olympics in London, as well as a team gold medal.
After taking two years off, the Newport News native who grew up in Virginia Beach is returning to the form that enabled her to win the top Olympic prize in gymnastics four years ago.
Douglas placed second in the World Games in November and last month won the national title — the American Cup — on her way to the Olympic games in Rio de Janeiro, Brazil, this summer.
The March 5 victory in Newark, N.J., is seen as an important stepping stone for Douglas, who won the title with 60.165 points.
She took top honors in the uneven bars, vault and balance beam events, and placed second to teammate Maggie Nichols in the floor exercise. Nichols was second in the all-around with 59.699 points.
The American Cup has a history of forecasting the Olympic all-around champion, with past Olympic winners Mary Lou Retton (1984), Carly Patterson (2004) and Nastia Liukin (2008) winning the cup ahead of the their victories in the international games.
"I'm stronger now than in 2012," said Douglas, who is seeking to better Comaneci who won the all-around title at the1976 Olympics and won silver in the all-around in 1980, plus two gold medals in individual events.
"The form needs to be better" to win at the Olympics, Douglas said, "but my mental game is more there, and I feel more aggressive."