Simone Biles, LeBron James named AP Athletes of the Year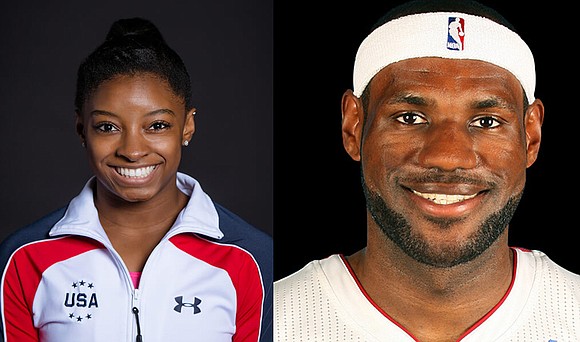 She won a record-tying four gold medals to go along with a bronze during the 2016 Summer Olympics in Rio de Janeiro.
He ended 52 years of sports heartache by bringing Cleveland an NBA championship in June.
Simone Biles and LeBron James have been named the Associated Press 2016 Female and Male Athletes of the Year.
In a vote by U.S. editors and news directors announced Monday, the 19-year-old Biles received 31 votes out of a possible 59 votes. U.S. Olympic swimmer Katie Ledecky, who won four golds and a silver in Rio, finished second with 20 votes. Serena Williams, who won Wimbledon for the seventh time to tie Steffi Graf's record of 22 Grand Slam titles, and three-time AP women's NCAA basketball Player of the Year Breanna Stewart tied for third with four votes each.
Biles became the fifth gymnast to win the honor, joining Olga Korbut in 1972, Nadia Comaneci in 1976, Mary Lou Retton in 1984 and Gabby Douglas in 2012. It's company Biles joined while completing a run of dominance that included three straight all-around World Championships, an unprecedented run at the top in a sport where peaks are often measured in months, not years.
The teenager from Spring, Texas, hardly seemed burdened by the outsized expectations. If anything, she embraced them. She opted out of a verbal commitment to compete collegiately at UCLA to turn professional so she could cash in on the lucrative opportunities afforded an Olympic champion, a bit of a gamble considering the window is so narrow and directly tied to success at the Olympic Games.
Yet Biles seemed immune to it. At least on the outside. Inside, there were more than a few butterflies when she stepped onto the floor during team preliminaries on Aug. 7. They vanished the moment she stepped onto the floor at Rio Olympic Arena as she and the rest of her "Final Five" teammates — Douglas, Aly Raisman, Laurie Hernandez and Madison Kocian — put on a clinic that showcased how substantial the gap between the Americans and the rest of the world has grown.
What followed was a run of brilliance: A team gold as a fitting send-off to retiring national team coordinator Martha Karolyi. Another in the all-around two days later, where her score of 62.198 bettered Raisman by more than two full points, the gymnastics equivalent of winning a football game by three touchdowns. A third gold came on vault, the first ever by an American woman at the Olympics and Biles' first in major international competition to fill the only hole in her increasingly peerless résumé.
A bronze on beam followed thanks to a messy landing on a front flip, her only major form break in Rio. No matter, she put the exclamation point on her gold rush with a gravity-escaping floor routine that ended with Biles rushing to embrace longtime coach Aimee Boorman as their long journey to this moment ended in triumph.
The ensuing four months have been a whirlwind. Biles carried the U.S. flag at the Olympic closing ceremonies, published her autobiography, took part in a post-Olympic tour with her teammates including performing in eight shows despite a fractured rib and hung out at the White House with President Obama. She remains open to giving it another shot in Tokyo in 2020. That's for later. In January she'll sit down and plot out her goals for the upcoming year. For the first time since she can remember, gymnastics won't be on the list.