'The Final Five' are golden
Team dominates competition, wins Olympic gold in Rio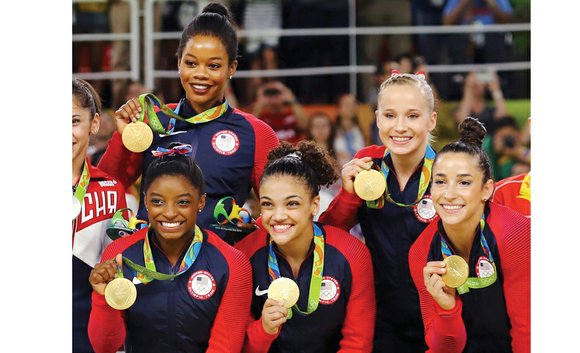 There were a few wobbles here and there, even for Simone Biles, but those imperfections could not stop the United States from blowing away the opposition to capture the Olympic women's team title with a record margin Tuesday.
Dubbing themselves "The Final Five,"' Biles, Gabby Douglas, Aly Raisman, Laurie Hernandez and Madison Kocian proved that they are an untouchable force in gymnastics as they tumbled and soared to victory with a total of 184.897 points.
In a sport where tenths of a point can mean the difference between a gold and no medal at all, their winning margin of 8.209 points was a blowout.
In fact there was only 4.601 separating silver medalists Russia from last placed finalist Brazil. China trailed the Russians by just 0.685 of a point to finish with the bronze.
The Americans' victory, along with the new moniker, was the perfect departing gift for retiring U.S. head coach Marta Karolyi, who burst into tears as she watched her adopted country win back-to-back team golds for the first time.
"I know it means the world to her ... she was just so excited at the end ... she started crying, it was so cute," three-time world all-around champion Biles told reporters as she flashed a megawatt smile.
"We just thought the name was perfect because it is Marta's last year and we are 'The Final Five' for her and it is amazing to end it off with her like this."
Surprisingly the 19-year-old Biles, who is tipped to win five golds in Rio, earned the lowest mark of 12 performances for the Americans, drawing 14.800 on the uneven parallel bars after hesitating for a split second midway through her routine.
Biles also had to whirl her arms around to stay on the balance beam after a sequence of three backflips left her wobbling on the 4-inch wide apparatus.
But despite those glitches, 'The Final Five' soared so far out of sight of their rivals that the other teams must have felt they needed to board a supersonic jet to catch them. The collective strength of the Americans — with Kocian securing the team's highest mark of the day (15.933) with her high-flying bars routine — left Biles needing to only to reach a target of 7.591 with her final floor performance to secure the first Olympic gold of her career.
It was little wonder that her teammates were already hugging and whooping for joy even before she had begun her routine to the beat of Samba music.
Biles' explosive tumbling passes — which included her trademark soaring double layout with a half twist at the end — had the Brazilian crowd roaring their approval. When she completed her final landing, it was not a case of if the U.S. women were champions but by how much.
A score of 15.800 confirmed the rout.