Goodnight, sweet Prince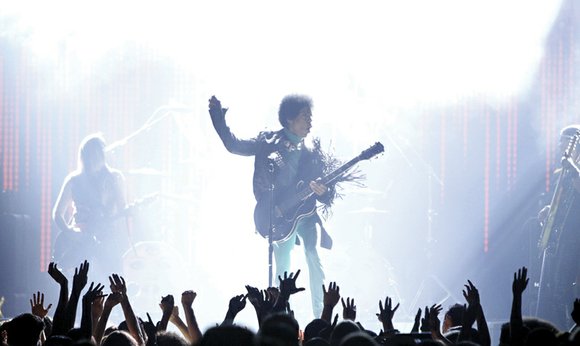 Free Press staff, wire reports
MINNEAPOLIS
Fans in the Richmond area and around the world are listening to their favorite Prince songs, watching his iconic movie "Purple Rain" and partying like it's 1999 in memory and honor of the pop icon who died Thursday, April 21, 2016, in his hometown of Minneapolis.
The 57-year-old was found unresponsive in an elevator at his Paisley Park Studios compound, which included his home, in the Minneapolis suburb of Chanhassen, according to the Carver County Sheriff's Office.
Prince was known for his unique songwriting, energetic stage performances and break-the-mold creative talents. He electrified fans around the world with his hits that included "Purple Rain," "Let's Go Crazy," "Little Red Corvette" and "When Doves Cry."
He drew upon musicians ranging from James Brown to Jimi Hendrix to the Beatles while creating a gender- and genre-defying blend of rock, funk and soul.
Last Friday, Minnesota Gov. Mark Dayton directed the Minnesota Department of Transportation to continue the purple lighting of the Interstate 35W Bridge in Minneapolis through last weekend.
"Prince and his music defined an era," Gov. Dayton said last Friday. "His tremendous talent was matched only by his generosity and commitment to improving his community. Minnesotans and our nation mourn the loss of a great artist today, one who has left an unforgettable mark on music history, and whose contributions to the betterment of our state will be remembered for years to come."
In Richmond, local radio personalities Kelli Lemon and DJ Lonnie B hosted a free tribute to Prince on Tuesday night at the Hippodrome Theater then scheduled another 8 to 11 p.m. Thursday, April 28, next door at The Speakeasy, 526 N. 2nd St., in Jackson Ward.
"It's for people who respect his genius and want to get together and have a good time while watching some of Prince's videos on one of our five screens," said Hippodrome owner Ron Stallings. "We encourage everyone to wear purple."
Several area theaters are hosting showings of "Purple Rain," including an 8:05 p.m. show Thursday, April 28, at the Goochland Drive-In, 4344 Old Fredericksburg Road, and a midnight show, Saturday, April 30, at the Byrd Theatre, 2908 W. Cary St., in the West End.
Born in Minneapolis as Prince Rogers Nelson on June 7, 1958, Prince is said to have written his first song at age 7. As well as singing and writing, he played multiple instruments, including guitar, keyboards and drums.
In a 1998 interview with Reuters, Prince said he ignored critics and focused on a quest for great music. "I just do what I feel I'm supposed to do," he said.
Prince was a beloved icon in his home state. As news of his death spread last week around the nation and the world like wildfire, distraught devotees gathered outside the Paisley Park compound in mourning, leaving purple flowers and balloons.
"His music made the hair on your arms stand up," said Kristina Dudziak, 44. "It felt like he was making love to his guitar. ... It's a sad day," she added, starting to sob.