HU's Miles Grooms awaiting draft call from NFL
4/29/2016, 12:29 p.m.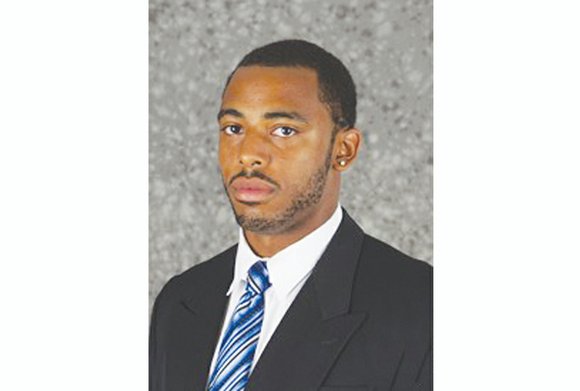 A native Richmonder who got a late start in football could be Hampton University's next NFL entry.
Miles Grooms hopes to hear his name called in the NFL draft scheduled for Thursday, April 28, through Saturday, April 30, in Chicago.
If not, the Henrico High School alumnus almost surely will sign as a free agent — a path numerous former HU Pirates have taken to the NFL.
The 6-foot-3, 251-pound defensive end/outside linebacker came on strong as a senior with the Pirates.
Earning All-MEAC honors as a big-play defender, Grooms had 16 tackles for losses, 8.5 quarterback sacks and 15 quarterback hurries.
He added three sacks at the Dream Bowl in Virginia Beach with scouts from every NFL team in attendance.
The Dream Bowl is an event for athletes from non-FBS (Division IA) schools.
"Miles is athletic and explosive, and has shown the ability to bend the edge," said HU pro liaison Gary Lowery.
"If he isn't drafted, he'll sign as a free agent," said Lowery. "There are teams from the Canadian League already offering him contracts."
According to Lowery, HU has more active NFL players now than any other HBCU.
"All 32 (NFL) teams came by our campus this past season. And at least half of them came more than once," said Lowery.
Miles showed off at HU's Pro Day and also in several workouts for individual teams. At an NFL Regional Combine, he ran the 40-meters in 4.89, benchpressed 225 pounds for 25 reps, performed a 29-inch vertical leap and a 10-foot-3 standing long jump.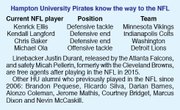 Richmond area sports fans may recall Grooms more for basketball than football. He was a starting post player under Coach Vance Harmon at Henrico High School, averaging six points and five rebounds as a senior.
"We called him Otis and he was a big rugged kid on the basketball floor," said Harmon. "He'd knock three guys over going across the lane without even noticing it — not maliciously — he was just that strong." 
Grooms didn't take up football until his junior year in high school and didn't play defense until he was a senior. He spent a post-grad season at Hargrave Military before signing with Hampton University.
A second HU player who has turned NFL heads is 6-foot-6, 316-pound offensive tackle Torian White, a transfer from UCLA.
HU has sent 30 players to the NFL during the decades, starting with running back/defensive back Tom Casey in 1948, who was drafted by the All-American Football Conference's New York Yankees.
Casey played one year in New York before becoming a perennial all-star with Hamilton and Winnipeg of the Canadian Football League. In 1964, Casey became the first African-American named to the CFL Hall of Fame.